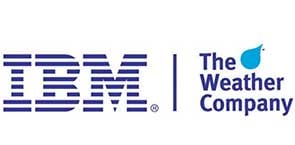 Did you hear that IBM is acquiring the digital assets of The Weather Company? The Weather Company is "where the world gets its weather" and includes The Weather Channel and weather.com. Think of how critical weather information is to so many things we are involved in both outside of work and at work.
Last night I drove home from a business event in such a bad rainstorm that if I could have known when it would clear up, I'd have left later from the event. While I knew it would rain, I didn't have an app to tell me when to drive based on my route to avoid the worst of this storm.
Weather is incredibly difficult to predict, but with the quantity and quality of sensors now things have begun to change. These kinds of predictions could be made now with the 3 billion data points from the Weather Co. deal teamed up with IBM's Watson.
Business issues that could be very interesting here:
Correlation of retail traffic compared to different weather patterns
Local and global businesses that could be off-shoots of weather data
Don't forget family issues from what your kids really need to bring or wear to school to whether that family get-together will get snowed out this winter.
The Weather Co's data pulls from public sources as well as proprietary crowdsourced data through its mobile phone app. This makes for 3 billion weather forecast reference points and from 40 million smart phones, according to Weather Co. CEO, David Kenney.
This is an innovative move for IBM opening up so many possibilities. For most of us, acquiring that much data would be mind boggling, but for IBM's Watson, a cognitive computing system that bridges people with data, it's just a new direction. As a longtime observer, it's good to see IBM investing into the future.
How does this news apply to the rest of us in business, including MSPs? First of all, if we can predict something as chaotic as the weather, we should be able to now tackle the toughest business issues.
Cloud computing continues to create tremendous opportunities and those of us in the business of managing technology services for our clients have a bright future. We can't even fathom yet what new services could be.
It is as if there is a new map created with some data points and the need for insight and strategies which will solve a new round of existing issues. It is an exciting time.
---
This post was brought to you by IBM for MSPs and opinions are my own. To read more on this topic, visit IBM's PivotPoint. Dedicated to providing valuable insight from industry thought leaders, PivotPoint offers expertise to help you develop, differentiate and scale your business.

Lori Richardson is recognized on Forbes as one of the "Top 30 Social Sales Influencers" worldwide and is a Top 25 Innovative Sales Blogger. Lori speaks, writes, trains, and consults with inside sales teams in mid-sized companies. Subscribe to the award-winning blog for sales strategies, tactics, and tips.
Increase Opportunities. Expand Your Pipeline. Close More Deals. Develop Sales Leaders.
email lori@scoremoresales.com | My LinkedIn Profile | twitter | Visit us on G+