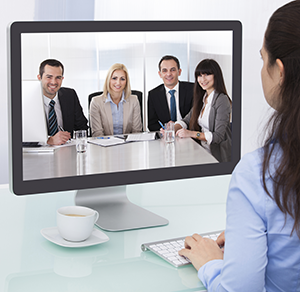 Video is truly "the next best thing to being there" in person. With partners in business being located thousands of miles away in many cases, it's become time to review what video can do for you and why it might be time to stop thinking it's not for you.
What Video Can Do for MSPs
Video is much easier to use now. Virtually every laptop is now equipped with a webcam and set up is simple. Have you thought about how easy it would be to start recording a weekly message? If you did record a weekly message to your partners or customers, how could that build stronger and better relationships? Even if you need to edit your video, the tools could not be simpler, which was not the case even a few years back.
Video is clarity. You can get your point across through video better than any email or audio recording.
You can create your own studio now in a meeting room or empty space. Sites like Wistia offer wonderful video production tips on lighting, effects, and cameras.
What Do the Statistics Say?
Video is a great medium to find buyers. Since 2008, many sources cite that YouTube has been (and is) the #2 most popular search engine, so working to craft messaging around who you serve and what you do for them through well –crafted video can gain the visibility of prospective buyers through video search and through your website. Have you invested in ways to create messaging this way?
75% of business executives told Forbes they watch business video at least once a week, according to VideoBrewery. They share some other great video stats as well.
Tim Lewis of Continuum has a great post Step-by-Step Guide to Video Marketing for MSPs because of the huge ROI factor that video offers.
For further "how to" information, check out the Wistia Learning Hub. Here you'll see use cases, examples, and ideas to jump start any company's video strategy.
An MSP Who Uses Video – Example
Gordon Tan with one of Australia's fastest growing MSPs created a whole video series, Client Heartbeat Mondays - on helpful tips and ideas for growing business. Check out their channel and you can scroll through to find ideas to not only give you inspiration but actual tips to help you get there.
I like this video about the importance of promptness, with benchmark statistics.
These are examples to help businesses like yours – how can you craft a plan to help your customers as well?
This post was brought to you by IBM for MSPs and opinions are my own. To read more on this topic, visit IBM's PivotPoint. Dedicated to providing valuable insight from industry thought leaders, PivotPoint offers expertise to help you develop, differentiate and scale your business.
---

Lori Richardson is recognized as one of "50 Most Influential in Sales Leads Management" and on Forbes as one of the "Top 30 Social Sales Influencers" worldwide. Lori speaks, writes, trains, and consults with inside sales teams in mid-sized companies. Subscribe to the award-winning blog and the "Sales Ideas In A Minute" newsletter for sales strategies, tactics, and tips. Increase Opportunities. Expand Your Pipeline. Close More Deals.
email lori@scoremoresales.com | View My LinkedIn Profile | twitter |Visit us on google+