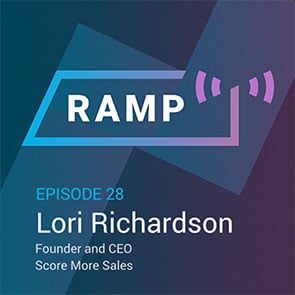 Nearly every SaaS company invests in inside sales once they find product-market fit, but each company manages sales differently. That disparity in sales leadership can be the reason one company fails and another succeeds.
Unfortunately, companies almost universally underestimate the need for repeatable, in-depth sales training and coaching. New reps, no matter their background, need support to ramp up. It does not matter if the rep was successful in the past – markets are different, products are different, prospects vary, and sales cycles can too. Reps need structure, direction, guidance, and championing to succeed in their role.
In the latest episode of Ramp, the InsightSquared podcast, I discuss how to create a sales training and onboarding process that will kickstart growth.
Listen now:
In this 18 minute episode, you'll learn a little more about me, and also:
The sales performance metrics that matter
The best tools for SaaS sales managers
How to incorporate content into the sales process.
Find out why metrics driven sales training and onboarding makes such a difference for your new reps.
If you want to talk directly to me about assessing the health of your sales team, go here.
Sales is a journey – I say if you focus on 1% improvement every day, you'll see compounded results.
---

Lori Richardson is recognized on Forbes as one of the "Top 30 Social Sales Influencers" worldwide and is a Top 25 Innovative Sales Blogger. Lori speaks, writes, trains, and consults with sales teams in mid-sized companies. Subscribe to the award-winning blog for sales strategies, tactics, and tips.
Increase Opportunities. Expand Your Pipeline. Close More Deals. Develop Sales Leaders
email lori@ScoreMoreSales.com | My LinkedIn Profile | @scoremoresales | G+