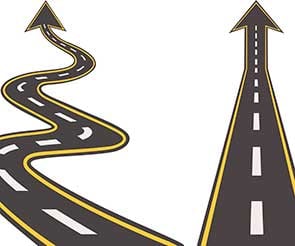 People speak about goal setting in many ways for business success. My take may be a bit simplistic or different – but it is the way I have looked at goal attainment for the past 20 or more years.
In the classic, Alice in Wonderland, author Lewis Carroll created dialogue between Alice and the Cheshire Cat, which has been paraphrased millions of times as the following:
If you don't know where you are going, any road will get you there.
The ACTUAL exchange (having read it a number of times) is:
"Would you tell me, please, which way I ought to go from here?"
"That depends a good deal on where you want to get to," said the Cat.
"I don't much care where – " said Alice.
"Then it doesn't matter which way you go," said the Cat.
As a professional seller, turn that around, and take this as, "If you KNOW where you want to be, you must plan on how to get there."
If you are New:
Are you looking to quickly onboard and close your first deal sooner than any other new rep?
Would you like to get more comfortable with who your buyers are so you can have better conversations now?
Can you learn from your most successful peers about who your company's best buyers are so that you can find similar opportunities?
If you are not New, But in a Slump:
Do you want to end the year strong and prove to yourself you have what it takes to be more successful?
Will you find it in you to make something happen no matter what the cost?
Can you put in the work in the next six weeks so you hit the ground running next quarter?
You Must Find Ways to Inspire Yourself
For goal attainment in professional selling, you must know WHY you are at work.
What brings you in every day?
What will get you to make one more call today, or send one more well-targeted email?
If you do NOT have your "WHY" then there is NO REASON for you to work hard (or smart) the rest of the day.
What is your why? When you determine what it is, put a picture of it on the wall.
Some of my clients have a photo of their family up – because they are the sole support of the family.
Another rep I work with has her dream house on the wall, along with the cost, the down payment, the location, and a deadline on when she will be IN it.
For now just think about the WHY. We'll talk much more about goals and goal setting in the coming weeks.
Want to talk about goals and goal setting with Lori? Here's your chance
---

Lori Richardson is recognized on Forbes as one of the "Top 30 Social Sales Influencers" worldwide and is a Top 25 Innovative Sales Blogger. Lori speaks, writes, trains, and consults with inside sales teams in mid-sized companies. Subscribe to the award-winning blog for sales strategies, tactics, and tips.
Increase Opportunities. Expand Your Pipeline. Close More Deals. Develop Sales Leaders
email lori@scoremoresales.com | My LinkedIn Profile | @scoremoresales | G+