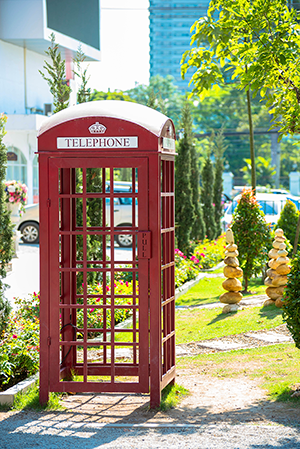 (This post first appeared on LinkedIn). It is an unpopular stance to tout the value of the telephone for sales professionals - and I do it with much thought and reverence for how sales has changed and how buyers make buying decisions. I'm not a crazy phone lady - in fact I was recently acknowledged as a top Social Sales Influencer on Forbes. My company has invested in Inbound Marketing and all sorts of other technology tools.
The fact remains that some with the title of "Business Development Rep" or "Sales Rep" or "Account Manager" or other sales role seem to be uncomfortable calling people they don't know.
One rep recently told me that he doesn't want to interrupt his buyer - that it is lame, and that NO one sells that way anymore. The phone went out of favor in early 2000.
Other sales reps focus predominantly working their inbound leads or they exclusively send email messages as I found a group doing so lately.
So the phone is dead and buried? Those smartphones we use are simply to text and use apps? Your office phone is collecting dust?
The phone actually wields a lot of power if you are working to connect with potential buyers. Not that IT guy who doesn't even have a phone at his desk at work - but many of your potential buyers in many industries DO check voice mail and do answer their phone.
Before you continue to write off the telephone to support your business development as one part of a multi-faceted strategy to grow revenues, you need to know the following:
A call is often the quickest and easiest way to reach people.
It's cold when I don't know anything about you - but I warm that up with online insight and ideas. I learn about topics you may be interested in hearing about. I only call to add -- not to rob you of time. I believe what I represent as something you may be interested in hearing more about.
Speaking voice-to-voice can be better than messaging by text or email because you can hear tone and you can often note what is "un-said". You can hear where someone pauses and you can learn of their trepidation or feel their thought of risk.
You can make better use of someone's valuable time with a quick phone call. Ever get into one of those back-and-forth text discussions or dozens of email messages stemming from a single question? That's the time to pick up the phone.
A series of calls included in a multiple-strategy plan to reach your buyers will help you build your brand by leaving short, insight-oriented messages.
With an un-targeted, cold call where you share no value to your intended buyer, you stand a high chance of getting their voice mail and never hearing back. It is a pure waste of time, and could actually hurt your personal brand. If, on the other hand, you don't know the person you are calling but have learned of them through LinkedIn or other social platforms, you customize a message, add a powerful call to action and stand a good chance of hearing back.
I'm not asking you to interrupt busy professionals and waste their time. I AM suggesting that if you have a valuable service that quite possibly could be helpful to how they run their business, or something that will help them grow business or drastically reduce their costs, time, or risk - then it is UPON you to reach those who could benefit. Reach out to them by phone because once you have them on the call, you can cover more ground. You can answer several questions instead of many emails or texts and set up a scheduled call - even a video call - to talk further and learn more about them. You can show the confidence for your solution through your voice and demeanor.
If It Works Don't Fix It
If your sales numbers are at 100% or more, my advice often is to keep doing what you are doing. But if they aren't......stop hiding behind email and get on the phone - unless you sell your services to a very niche market that is phone averse, you WILL grow sales opportunities this way. When you identify your target market and you have a compelling solution for that market, calling early before your buyer is online looking will give you a MUCH HIGHER chance of earning that business.
I'd love to hear your thoughts - about calling - as a part of your strategy to nurture relationships and reach more of your tribe - those you can do your best work with and add the greatest value. Do you do it? How much? If not, what works better for you?

Lori Richardson is recognized on Forbes as one of the "Top 30 Social Sales Influencers" worldwide. Lori speaks, writes, trains, and consults with inside sales teams in mid-sized companies. Subscribe to the award-winning blog and the "Sales Ideas In A Minute" newsletter for sales strategies, tactics, and tips in selling. Increase Opportunities. Expand Your Pipeline. Close More Deals.
email lori@scoremoresales.com | My LinkedIn Profile | twitter | Visit us on google+