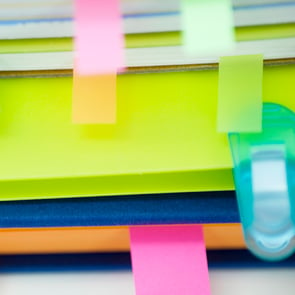 A day off, or a long weekend can be the perfect time to get new creative thoughts. These thoughts and the ideas they create can solve difficult problems you have at work.
Best-selling author David Allen has written and spoken for years on ways to be more productive. He says that the greatest human fear is to be out of control. We tend to not want to jump into things we might goof up. Is that you?
I enjoyed watching this TEDx talk he gave in Amsterdam which outlines the natural planning model you are already built with – no consultant needed. Take a look and I've put some of the main steps and ideas below.
Most people have something that's draining their energy. What if there was a system you could use to help organize whatever is most on your mind. That system actually is accessible to you – you know how to do this so that you can feel clear and free.
Think of something you have attention on.
What is coming toward you?
Something you need to organize.
Close your eyes.
What emerges most?
Write that down.
What is the main reason this thing exists? What is the primary purpose for this event / project / other.
Now, play writer / producer / director – and plan a vision for success.
Ask: what would success mean to me? Keywords, thoughts
Next: You need to deal with an image of reality that may not be what you want
Your brain will help show ways to make your vision happen.
Now come up with as many things that come up that might be relevant and you'll now be able to be rational and structured with critical components and priorities.
Take the next few moments – pick the 3 most important things you need to handle RIGHT now. Circle them.
Now: take all that thinking and write down – what is the very next action that needs to happen to move forward?
What is the very next physical action you need to take – very specific – decide on it.
This is called the Natural Planning Model.
It consists of (in this order):
Purpose
Vision
Ideas
Structure
Next action
The natural model is not the normal model.
David Allen shares that your BRAIN knows the best way to plan for you. Brains don't do everything well, but they do this natural planning model if you can get quiet enough and focused to put it into place.
You are a natural planner – for survival.
So take a long weekend – go off and have fun. When you get a few quiet moments, sit down and capture what's in your brain to free up space in that same brain.
If you do this, your brain will have the clear space to be more creative, and that's what we need to be most successful in professional selling.
---
Lori Richardson helps mid-sized companies grow revenues by solving key issues in their sales department - like recruiting, retention, diversity hiring, process, pipeline and leadership. She speaks at CEO groups on topics of sales growth. Clients include companies in the technology, telecom, manufacturing, distribution, and professional services industries. Subscribe to the award-winning blog, follow her on Twitter
Increase Opportunities. Expand Your Pipeline. Close More Deals. Develop Sales Leaders
email lori@ScoreMoreSales.com | My LinkedIn Profile | @scoremoresales | G+