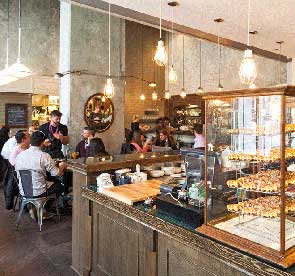 We took a short hiatus to Seattle and Vancouver, BC in August and had so many examples of great service and a few examples of poor service. Since customer service is a big part of business success it seems like an opportune time to share some observations.
Bad Systems Can Be Improved
Extremely long waits for a rental car just after you've flown thousands of miles for hours on end makes for a really negative experience. With all of the data at the rental car companies' disposal it sure seems like things could be greatly enhanced. Some ideas are:
A welcome text after your flight has arrived, pre-programmed, with an idea of whether the counter should be overly busy or not (they DO know who has reserved a car, right? Why the 30 minute wait in line?)

An acknowledgement when you are stuck in a long line about options (Budget has a "fast lane" program to just pick up the keys)

Bottled water and some eye contact
Exemplary Service Should be Recognized
The Hyatt Olive 8 in Seattle where I spoke at the PipelineDeals conference was amazing. Staff was attentive, service was great, food was fabulous.
One of the staff said to me, "We are here to help this conference shine. Let us know whatever you need."
In Vancouver, the L'Hermitage Hotel was beyond fabulous. Staff, service, and accommodations were top notch. They even got us a reserved table for the restaurant next door, Café Medina that has a waiting line down the street every morning. Although there was a lot of construction going on around us, it did not affect us due to the great attention by the staff.
Leave it to the Government for the Worst Service
I've crossed the U.S. / Canada border more times than most Americans – hundreds of times over the years. Now with Big Data available, I was absolutely dumbfounded to see one line (ours) moving about 75% slower than the line immediately next to us. This is a great way to lose hours of your life. In the past I had a "fast pass" called a Nexus card, but now that I don't cross the border very often I didn't have it and man was that a frustrating part of the trip. You would think that border officers would be able to see if they are so much slower with each and every car – not just one issue, but every vehicle. Since I could not complain while in the line, I feel a bit better now venting about it. Do some analysis and at least move the lines in a similar slow or fast pace!
The Situations are What We Remember about a Company
When I think of the smiling faces of hotel and restaurant staff and the great service offered at our hotel stays, it makes sense that those tactile and visceral feelings are what we remember in business dealings. Are you offering memorable experiences to your clients?
What can you do to improve?
---

Lori Richardson is recognized on Forbes as one of the "Top 30 Social Sales Influencers" worldwide and is a Top 25 Innovative Sales Blogger. Lori speaks, writes, trains, and consults with inside sales teams in mid-sized companies. Subscribe to the award-winning blog for sales strategies, tactics, and tips.
Increase Opportunities. Expand Your Pipeline. Close More Deals. Develop Sales Leaders
email lori@scoremoresales.com | My LinkedIn Profile | twitter | Visit us on google+