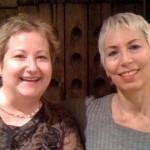 What a treat to meet Top Sales Experts colleague Wendy Weiss yesterday in New York City. I definitely enjoyed it and was reminded that she is holding a knowledge-packed teleseminar on December 7th all about bypassing gatekeepers and voicemail to reach your prospects.
This is a topic most of my clients are talking about - it is harder and harder to directly reach people. Talk with one of the masters on the subject - Wendy has been helping clients with successful telephone prospecting for ten years - don't wait - sign up for the Bypassing Gatekeepers/VMail call.
I'm looking forward to more of Wendy's programs and products. She knows her stuff - have you heard her recently?