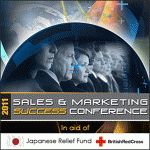 Can you imagine five days of top sales instructors, mentors, and teachers sharing with you the TOP ideas to help you grow your business - and the very small fees to participate all going to help victims in Japan? It's true. Welcome to the 2011 Sales and Marketing Success Conference - in the comfort of your own office or home.
This is a monumental project going on at Top Sales World - I'm thrilled to be speaking on Day 4 about having fun prospecting. Each of the 35 sessions has just a $5 donation to participate - and all donations going to the Japanese Disaster Fund via the Red Cross.
It's not often that you can help yourself AND someone else at the same time. Just check out the amazing experts who will be speaking in this series. I suggest you enlist friends, colleagues and co-workers to all dial in to listen and take notes. Then, do a follow up with your co-workers and colleagues to share your biggest take-aways. It will help you with reinforcement of main ideas.
I'm honored to be presenting with such heavyweight speakers as those involved in this project - there is no other program out there offering such value and such contribution. Please help us spread the word!