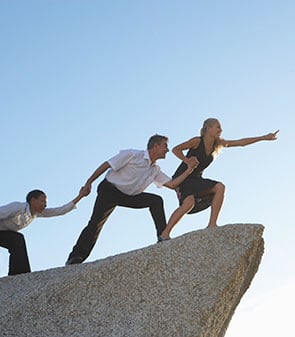 If you are a typical sales team you have a top percentage of sellers who will do great things no matter what is going on in the organization and with leadership. But after that small percentage, everyone else is affected by the structure and consistency of sales leadership.
I know as a rep I would rise to the expectations of my company leadership – if my manager was sloppy I knew I could cut corners and I did. Call me lazy, or just call me typical, because most of my peers and the sellers I've seen over the years since then do the same.
If my sales manager expected to know my activity numbers regularly (daily in a sales huddle or in some other manner) I was ready and worked to exceed his or her expectations. If not, I have to admit, I'd phone it in. I thought less of them for not caring about how I'm doing and for not asking me anything other than about deal activity.
"Is that deal going to close before the end of the month?" one of my managers would always ask. He could care less about how I was doing, what I needed, how successful a new strategy I just implemented was, or why I was doing well in a territory I recently took over.
If you are a sales leader, your team WANTS you to LEAD.
L - lose ambiguity – be clear – help your team be sure what their focus is
E - excel in helping them with examples and practice calls
A - ask important questions of your team about activity and about their focus for today
D - dare to show your care and concern for them as an individual – do you know their goals?
It's not too late. Kick off Q2 differently and expect MORE of your team.
A good place to start is by evaluating your sales process.
You can make the difference in each of your rep's careers. I encourage you to consider STEPPING UP. Make mistakes, course correct, and stand up for excellence.
Reach out if we can be of support in this. Now is the time to book a call with me.
---

Lori Richardson is recognized on Forbes as one of the "Top 30 Social Sales Influencers" worldwide and is a Top 25 Innovative Sales Blogger. Lori speaks, writes, trains, and consults with sales teams in mid-sized companies. Subscribe to the award-winning blog for sales strategies, tactics, and tips.
Increase Opportunities. Expand Your Pipeline. Close More Deals. Develop Sales Leaders
email lori@ScoreMoreSales.com | My LinkedIn Profile | @scoremoresales | G+