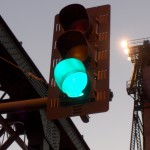 NY Times Best Selling Author Seth Godin spoke a couple months ago on moving forward and taking action. So many entrepreneurs and small business owners – even salespeople – all do planning, planning, and more planning - then they may or may not finally execute. It is worse when they just dabble. The do a little here, and a little there with no focus or roadmap.
Seth suggests you take action and most likely you'll make mistakes. The cost of failure is SO much smaller now than before. The new model is to grab attention, and it is not anyone's job to help you figure out how to save your business.
A focus on moving forward makes sense to us because we don't do well trying to help people save their businesses either. We help people move forward. Call us cheerleaders, guides, or mentors – we want your business to succeed – but don't ask us or anyone else to resuscitate it.
I've followed Seth for many years – in fact I read his essay In Praise of the Purple Cow in Fast Company Magazine in January of 2003. (you should too…. or just buy the book)
Seth was fairly soft spoken – no entourage or even a photographer with him – he took the stage in the long sold-out performance hall and just started speaking. He is not a large guy, yet he really commands attention with his smart ideas and brilliant delivery. He made lots of time for questions afterward, and I was moved by his interest in talking about all the problems with education in the U.S. Everyone I talked to was encouraged as he talked about each of these things:
- The idea of forward motion is to MOVE forward.
- Revolutions don't bring maps with them.
- Art is solving problems in interesting ways and art is always gift-based.
- Be abundant / be a lynchpin / be interesting
I kept getting stuck on the "take action" piece – it seems that everyone knows what to do – or they can look up how to do something - but they just often fail to get started and then do regular, ongoing actions to lead them to success. It ties in with the idea of whether entrepreneurs want to just have a daily job with lots of tasks to do every day or if they really want to make a change, or build something amazing, or add value in other ways.
Next I bought one of his latest books, Poke the Box, which is a manifesto you might want to read. Now. (hint: it's about taking action….) Bonus is that it's available now for under $7.
In the book, Seth states,
Excellence isn't about working hard to do what you are told. It is about taking the initiative to do work you decide is worth doing.
Reading that book and finally seeing him in person made me a fan of Seth Godin. It's not that I didn't think highly of him before, but I did not focus on it much - my entrepreneurial self read a little then moved on. Taking time to read and reflect is a great thing. Do you make time to do that? Now go find a project you REALLY want to get behind – and get to work on it.
We'd love you to share your mighty cause or big project that you are working on - here - just post it as a comment. We'll do a follow up post about all of the projects we think are interesting, amazing, needed, or just plain cool.
Lori Richardson is a sales detective who trains, coaches, and mentors leaders of sales teams and sales people in Boston and Seattle with smart, tactical tips. Read and comment on the blog or find her on Facebook or Twitter. Call her at (978) 222-3140 if she can help you get started on more revenues.