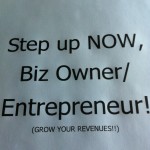 Some entrepreneurs and small business owners (and their salespeople) are talking about the stock market. Others are strategizing on and successfully growing revenues. Which camp do you fall into?
Here are ten sure-fire ways to grow revenues in your business. You don't need to do them all to be successful, but you DO need to do a number of them. If your business is at a plateau and needs a jump start, put these sales strategies into place and then roll up your sleeves and work to make them happen.
1. Have a very clear brand promise / value proposition – how do you add value to your customers, and why should they work with you? Can other people articulate this? DO others talk you up?
2. Clarify who it is that you serve - Niche 1 could be doctors. Niche 2 could be administrators. Each niche is different and needs special messaging. Keep the niches you work with separate for a concise message.
3. Do you know if what you provide is something people want and/or need (and will spend money on?) Even in a down economy, people will drive miles to get what they perceive to be a high value.
4. Have a nurture marketing strategy in place – be able to follow up with prospects not ready to buy yet. There are a dozen or so good and simple web-based programs to do this with. Stop with the sticky notes- you are losing contact information and leaving money on the table. Most people won't buy from you the first, second, or third time you contact them.
5. Use an automated system to set next actions with clients and strategic partners too. Remember that strategic (or referral) partners can refer you many companies over time, so why are you not contacting them on a regular basis? By always setting a next action with them, you will keep in contact regularly.
6. We are not marketers, but we know that you need at least one well-done webpage. People meet you live or through social means and then go to search for your presence on the web.
7.Be an informed business builder. Work off of a business plan, a sales plan, a social strategy, a financial plan, and an exit plan (we call it the 5 Plan)
8.Show some enthusiasm! Enjoy your work – no one wants to do business with someone who is down or complaining. Next time you visit a bricks-and-mortar retailer, or restaurant, see who is excited and enthused to see you and your dollars, and who is not. It's definitely something to be aware of.
9.Explore social tools, and – create a plan. Word of mouth is STILL the best strategy to grow sales. Social media is all about having two-way conversations, one person at a time.
10.Meet and know intentional connectors – they can refer many people / businesses your way. Intentional connectors are people who enjoy connecting you to a potential prospective customer or connecting you to a strategic partner. They LOVE it when something happens – you grow your business as a result of it. Often they don't want any compensation – sometimes they work with referral fees.
Bonus tip: Find someone outside of your geographic area (if you do local business) who does what you do, only better. Learn from them. Remember that success leaves clues. If you do business nationally or internationally, find a mentor in your field or another one who is beyond where you are. It really works.
Now, choose one of these and run with it. When you master one, go on to another. Make it a contest with yourself, or work each point like a project – with a start date and a finish date. If you get stuck, contact us at Score More Sales and we'll not only champion you on, but we will offer a suggestion for your business growth. Next up: links and resources for these ten ideas.