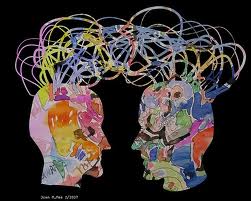 I'm in Austin today and heading to Dallas tomorrow to give talk at a leadership conference on communication and presentation. My big point, and theme for the talk is built around George Bernard Shaw's quote,
"The single biggest problem in communication is the illusion that it has taken place."
Think about it. All communication challenges stem from this. We think we have communicated, and the other party did not receive it well, did not even receive it, put on their own filter, didn't like what they heard so are responding accordingly, or some other issue.
We need better checks and balances when it comes to communication. Some ideas for starters:
Ask people the best way to reach them and the best times to reach them. Anyone under 30 is typically texting (almost exclusively) and many over 45 either rarely text (just to their kids, usually) or occasionally do.
Some people want instant information, others don't want to hear from you over the weekend if it is business-related.
Many clients respond well to emails - but some still prefer the telephone. Meet them where they are - as long as it is effective for both of you.
I met up with amazing digital strategist and PR maven Nettie Hartsock while here in Austin. For several reasons in and out of my control I was running way late, and thought I had her cell phone but it was her office number. I wondered if she'd see a tweet or an email - not knowing if she had a smart phone. Ultimately, she emailed me with her cell phone number and we did meet up - but I felt that was something I definitely should have had together prior to that day.
Today I'm meeting another amazing colleague - and yes, I have three phone numbers to reach her at, including her cell phone. I'm ready. Are you?
What areas could you clean up your communication? Post your thoughts - we'll push them out to the world.


Lori Richardson speaks, writes, and trains on sales strategies for B2B mid-market technology front-line sales teams. Why not sign up for our twice-monthly newsletter, "Sales Ideas In A Minute" or the award-winning blog rss feed?