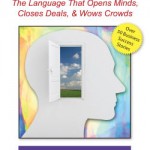 A new book I read on my last flight is Anne Miller's Make What You Say Pay! The Language That Opens Minds, Closes Deals, & Wows Crowds. It includes 50+ success stories about pictures, or metaphors that as Anne says, "really nail your point."
Miller says that you can turn confusion into clarity with the right metaphors and analogies. It's so true.
I know because about 18 month ago, I started introducing myself, when in front of smaller and medium-sized businesses as a Sales Detective. I say that I'm like CSI Miami - going into a company and helping them detect where the sales issues are - then I work with them to resolve them.
People immediately pay attention - the picture I paint just shifts them from "blah, blah, blah..." to seeing something and it helps them to better understand what a sales strategist does.
You need something to get people out of their info-glut work trance - their normal day and tell them something that will jump out at them. Anne Miller's book does this.
I thoroughly enjoyed the book because I felt like I was flying in a rocket instead of in an airplane - the time flew so quickly (like my analogy?). There was example after example that prove Miller's premise and shed light on various ways to integrate metaphors (I like to call them pictures) into your business stories. With a background in selling, there is a great focus on bringing business to closure - which all of us in selling like.
Visit Anne Miller's website as she has video about the book, two free chapters to download, and other books certain to help you grow revenues.
Do you have a sales book or tool to recommend? Drop a note or comment - we can put it on the list!