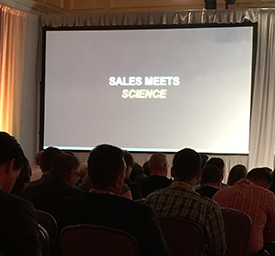 Growing sales through sales acceleration strategies and ideas is an always morphing process. It was great to spend two days with some really smart data scientists, sales leaders, and sales experts this week in Salt Lake City. This was not an ordinary sales event, it was the annual Accelerate conference and I think I typed about 4 blog posts worth of notes. I'll share some of the takeaways today with more in a future post.
Accelerate is an event for the customers and community around InsideSales.com – clearly the leading company focused solely on helping inside sales teams succeed. I say "clearly" because of the length of time they have been doing it, the recognition they have received from others in this space, their incredible breadth of products, their passion, and the response from their partners. It was announced at this event that both Salesforce.com and Microsoft are leading a new round of $60M in funding. When the two giants in CRM step up to partner with someone – people take notice.
What I always enjoy at events like this is listening to and debating with smart colleagues – the industry game changers who help sales teams put these types of technology into place and then work to ensure it is creating increased revenues at an increased pace.
Here are some of the many comments I took down and who said them –
"Sales reps spend over 25% of their time chasing after the wrong leads" – Dave Elkington, IS.com
"A business is like a football game – you have a finite field of play, boundaries, a clock, and rules. The truth will come out." – Former NFL Quarterback Steve Young
"Science holds the keys to unlocking human potential." – Mick Hollison, InsideSales.com
"The enemy of training is decay and delay" – Ken Krogue, InsideSales.com
"Rising revenues hide all sins" – Ken Krogue, InsideSales.com
"Who's job is it to maintain the CRM system (with good and updated data)? Everyone!" – sales panel
"For the first time in 10 years, CRM usage is at the lowest rate of user adoption." – Barry Trailer, CSO Insights
"Customer data is not good, and prospect data is worse" – sales panel
"Using direct-dial phone numbers, you are 147% more likely to reach a C-level exec than calling through a switchboard." – Steve Richard, Vorsight
"Investing in the SDR (Sales Development Rep) function is an emerging trend" – Trish Bertuzzi, The Bridge Group
"Top Challenges of Sales Leaders" data can be found at AA-ISP (association for inside sales professionals)

Lori Richardson is recognized on Forbes as one of the "Top 30 Social Sales Influencers" worldwide. Lori speaks, writes, trains, and consults with inside sales teams in mid-sized companies. Subscribe to the award-winning blog and the "Sales Ideas In A Minute" newsletter for sales strategies, tactics, and tips in selling. Increase Opportunities. Expand Your Pipeline. Close More Deals.
email lori@scoremoresales.com | My LinkedIn Profile | twitter | Visit us on google+