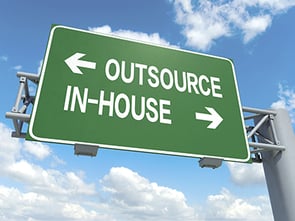 Many companies ask us if they should outsource their lead development (SDR) role to a company that specializes in this, or build their own, internal program. I interviewed Hugo Bader, Vice President of Business Development at DialAmerica, a firm that specializes in lead development. We will be asking other outsource firms the same questions – here's some food for thought to get things going:

Q: Why do your clients come to you? / Why do your clients look to outsourcing?

The short answer is that they have a sales problem they need solved. Either they do not have enough or they do not have enough quality leads. The solution DialAmerica delivers is a tele-prospecting channel that supports the sales team and delivers the quality leads they need to get to selling.

When companies decide to outsource, they are making the strategic decision to "buy" instead of "build" the tele-prospecting function. They have fully realized that there is much more to tele-prospecting than just getting a list and dialing. They turn to outsourced expertise to build a successful model, as well as execute and manage the function.

We try to give our clients' sales people more time to spend on selling. Outsourcing some of your inside sales functions can make a team more efficient, so your best sales people can be more effective.

Q: When partnering with an outsourced lead generation team, what should a business expect at the end?

Before setting expectations, it is critical for the business and their outsourced lead generation team to establish and mutually agree upon goals and objectives for the program. If this happens, a business can expect more leads, better quality leads and useful data for smarter marketing. The end result is, frankly, more revenue because you've set the proper expectations and deliverables.

Q: Can you go into the type of data you're talking about?

In addition to providing sales ready leads, your tele-prospecting partner should deliver intelligence about the prospects that say "no" or "I'm not ready right now. If done correctly, an outsourced partner will be able to fill not only your pipeline, but also provide you with a list of prospects to nurture, names of decision makers to stay in contact with and, importantly, a list of people and organizations that you don't want to waste more time or marketing dollars on.

Q: For brand conscious businesses, how do you ensure the individuals engaged in connecting with prospects and customers are aligned with the brand?

An outsourced partner should be an expert in their client's brand voice at every necessary touch point (call, email, etc.). We call this ThinSourcing - service delivered in a manner that is virtually indistinguishable from the way the company itself would provide it.

In order to do this, we utilize individuals with business experience in sales and marketing. People who possess the ability to effectively probe, converse and move a prospect forward in the pipeline – not simply read a script or settle for some awareness as a win.

Q: What should businesses not expect from an outsourced partner?

When a business enters a relationship with an outsourced partner, they shouldn't expect instant success. If this is their first foray into outsourcing, a large part of the process will be to specify the tasks and processes which will now be handled by the outsourcer. There will be a learning curve and changes to the approach since no two businesses are alike. It will be an evolutionary process that reflects changes in the business. They should expect a working relationship that is dynamic – just as businesses and the marketplace are always subject to change, so is the process of working with an outsourced partner.

Q: Does outsourcing make sense for everyone?

Outsourcing can definitely help a lot of businesses by providing process, structure and time savings, but it doesn't make sense for everyone. Before making a decision about outsourcing, companies should ensure that outsourcing aligns with their brand, and perhaps more importantly, their business goals and objectives. If it doesn't, then the partnership won't work out well.

Q: Sales teams are always trying to save time and generate more sales. How does outsourcing in the lead generation channel improve results?

I always tell people to think about the time wasted on following up on unqualifiedleads. Outsourcing delivers sales teams the type and quantity of sales ready leads that they should be spending their time on.

When a company outsources the lead generation function, they are ensuring that every inquiry that comes in, regardless of channel, is qualified before it gets delivered to the sales team. This maximizes efficiency.

Lori Richardson is recognized on Forbes as one of the "Top 30 Social Sales Influencers" worldwide and is a Top 25 Innovative Sales Blogger. Lori speaks, writes, trains, and consults with inside sales teams in mid-sized companies. Subscribe to the award-winning blog for sales strategies, tactics, and tips.
Increase Opportunities. Expand Your Pipeline. Close More Deals.

email lori@scoremoresales.com | My LinkedIn Profile | twitter | Visit us on google+