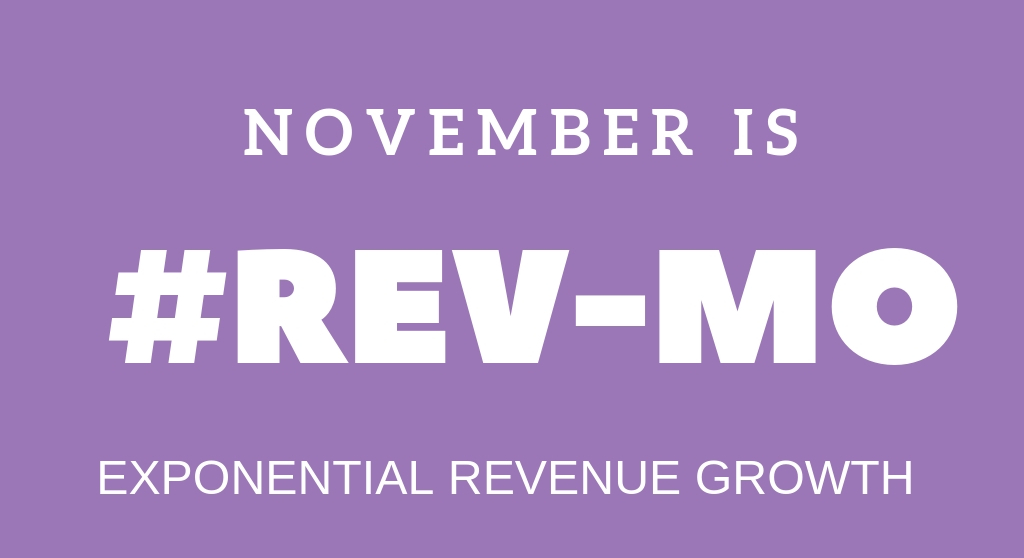 We are into Q4 already for those working in a sales organization with a calendar year (Jan-Dec). If you're not using a calendar year your year is probably just ending or will end shortly after the calendar year. You can participate in this too.
Soon everyone will be sharing what their REAL preoccupation is – traveling somewhere for the holidays, seeing family, visiting friends and planning amazing, epic adventures.
#REV-MO
It's all great, and, so is creating more revenue than you thought possible.
Most people don't think you can do both.
I was thinking about how November is the time for Movember – when lots of men grow moustaches to bring awareness to prostate cancer, testicular cancer, suicide prevention and mental health. This is an excellent movement that has been going on for 15 years.
November is also the month for NaNoWriMo, since 1999 for those wanting to write a novel in a month's time.
Since you are in sales in some capacity, why not a month of EXTREME FOCUS on REVENUE GENERATION? I know what you are thinking – we are supposed to be focused on that every month – every week, and every day in sales. You know as well as I do that we all get distracted.
The holidays are about to grab us all. NOW is the time to be cranking up the efforts, revising daily, weekly, and monthly goals so that you surprise even yourself with all that you can accomplish.
#REV-MO
Here at Score More Sales we will be setting more ambitious revenue targets for November, and we are encouraging YOU and your SALES TEAM to do the same. [Shameless note: so if you are looking at help for your sales team or for better hiring in sales roles, please reach out- this would be a great time!]
---
#REV-MO
A month where there are daily, weekly, and a monthly goal for a bigger push for activities that lead to more revenue:
Conversations with decision makers
Conversations with strategic referrers (the 3rd list)
Setting next actions and moving sales opportunities forward
Removing dead opportunities
Unsticking stalled opportunities through social channels and creativity
---
#REV-MO
where those who are "IN" to "WIN" can help counteract the slowing down of the holidays.
Let's go for this – who is with me?
How does your team rank?
For starters, share your #REVMO goals on @scoremoresales on Twitter or Instagram. Post on LinkedIn. Use the #REVMO hashtag so we can find your posts.
Here are a few examples:
Set a micro-meeting every week day with your sales team (in person or a virtual call) to learn what each team member is working on. No more than 6 minutes total! (that's 30 seconds each for a team of 12!) Make it a three-minute call for a team of six. What are you working on today, and what are you excited about (related to work?)
Next actions with a date and time ALWAYS
At least ___ number of conversations with decision makers
At least ___ number of conversations with others involved in a sales opportunity to gain more insight
At least ___ new prospective companies to connect to where you have a strong value proposition.
You get the drill.
November becomes the big, big push before the year end.
Don't wait until December – work a bit every day on this and if you do, you'll have more sales opportunities heading into 2019 OR you will have closed more business (depending on your sales cycle) than you every have.
Let's do MORE than we expected of ourselves. You'll feel unstoppable if you do.
Or, you can just believe that things "just slow down during the holidays".
Your choice.
#REV-MO
---
Lori Richardson helps mid-sized companies grow revenues by solving key issues in their sales department - like recruiting, retention, diversity hiring, process, pipeline and leadership. She speaks at CEO groups on topics of sales growth. Clients include companies in the technology, telecom, manufacturing, distribution, and professional services industries. Subscribe to the award-winning blog, follow her on Twitter
Increase Opportunities. Expand Your Pipeline. Close More Deals. Develop Sales Leaders
email lori@ScoreMoreSales.com | My LinkedIn Profile | @scoremoresales | G+