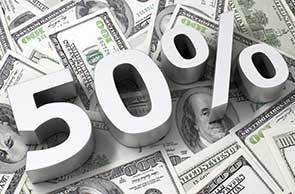 Do you have about a 50-50 chance that when you bring on a new SDR, BDR or Account Manager – sales rep – that they'll be a good fit?

You must have success in hiring sales reps but my best statistics hiring "from my gut" was 50%. I learned that being right only about half the time is too costly of a proposition.

When you consider the investment to bring on a sales rep today it is eye opening.

What are the costs to bring on a new rep?

For fun, check out the hiring mistake calculator.

Depending on how you hire, it can take up lots of leadership time or a lesser amount.

Candidates are recruited either through a referral, an outside or in-house recruiter.

They are put through an on-boarding program where other reps and front line leaders invest hours and hours of their time helping this person succeed.

Easily $30-$40K in salary and benefits for the first 3-6 months is paid for a $50K+ base position. Those are hard costs.

Soft costs are the opportunity costs. If I make a bad hire and spend six months finding out, we are now missing opportunities that could have happened had I brought on the right rep who ramped up sooner and identified the opportunities my current rep has not uncovered. If existing clients get assigned a new rep who is not the right fit, I may also lose existing business.

For argument's sake, let's say I have a plan to evaluate my new reps at 6 months to see if we will invest any more in them. If they last that long through my process, I need a way to assess if their hire will pay off – which could take 12 months or more.

Most companies do all of this without science or measurement - I used to as a sales leader and I understand. It is what you know, and heck, half right is better than being wrong 75% of the time, right?

Why not improve your odds right here, right now?

There are new ways to help you find sellers who have Sales skills and sales DNA – these reps have the skills to sell and the will to sell. They are motivated and committed to succeed.

What if you could tell whether someone just sounded good or they really WERE going to be a great fit for you?

Assess your recruiting process here

Next, we'll talk about specific ways to improve recruiting and maximize valuable time to market so that you grow more revenues sooner with the right team in place.

Lori Richardson is recognized on Forbes as one of the "Top 30 Social Sales Influencers" worldwide and is a Top 25 Innovative Sales Blogger. Lori speaks, writes, trains, and consults with inside sales teams in mid-sized companies. Subscribe to the award-winning blog for sales strategies, tactics, and tips.
Increase Opportunities. Expand Your Pipeline. Close More Deals. Develop Leaders
email lori@scoremoresales.com | My LinkedIn Profile | twitter | Visit us on google+