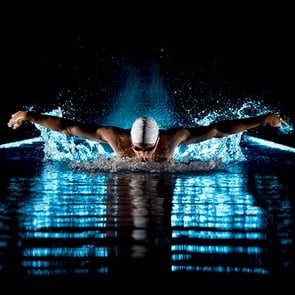 It drives me crazy to see myths perpetuated by people saying the same unsubstantiated thing in one place online, then everyone else repeating it as the verified truth.
There is a myth going around that the TOP sales professionals were athletes in school as referenced this week on the Salesforce.com blog – a source sellers and leaders trust for good, accurate information.
We've seen this with many things in B2B selling – one that sticks out in my mind is the myth discussed for a couple of years that buyers are "67% through the buying process before they engage with a seller" so it's pointless to proactively reach out to them. Sirius Decisions "updated" that research of theirs, and my friend Mike Weinberg wrote about that here.
This brings me to my point today. Last year, sales author Steve R. Martin was published in the Harvard Business Review (another source people expect accurate information) sharing his research in an article called What Separates the Strongest Salespeople from the Weakest. You can read it here. Also check out Dave Kurlan's insights on what was posted here – very interesting alternative viewpoint. In the HBR article, Mr. Martin referenced research of a group of 800 sales reps plus another 1,000 to base his results on. That's 1,800 people.
One of his findings was that "over 85% of the top salespeople played an individual or team sport in high school".
He's talking about HIGH SCHOOL – not collegiate sports as many sales managers and recruiters thirst for in a sales candidate. In the Salesforce blog referenced above, the photo is of college players – Martin's research referenced HIGH SCHOOL "team or individual" sports.
I don't know about you, but where I went to high school nearly everyone played a team or individual sport. We had P.E. and everyone who played a team or individual sport got credit for the mandatory P.E. requirement.
Sample Size is Small
Mr. Martin's research sample was extremely SMALL for a sweeping generalization – do you know how many professional salespeople there are? Depending on whose research you look at there are several million up to perhaps 10 million sales reps in the U.S. alone. 1600 people is interesting but not enough to yield accurate results for an industry and to say this is true for all sales pros.
I bring this up because for a very long time certain hiring managers have sought out former athletes to hire as sales professionals thinking they have hit the jackpot when this happens.
My son was a Division 1 College Athlete and went on to play professional sports. In our family and close family friends there are dozens of high school, collegiate, and professional athletes. We also served as a host family for a major-junior hockey team and we have a huge group of athletes – past and present - as close friends.
When you only seek out athletes or when athletics are a primary interest within your hiring, you miss out on many candidates who are competitive (that's the assumption about athletes, right?) in other ways.
As a sales manager, I used to make this mistake myself – I was thrilled when a candidate played college sports – I "knew" he (and it was almost always a HE) would be a great salesperson because sales does have some great parallels to sports. But I was right only 50% of the time. My statistics show me that other sales leaders have about the same success rate.
There are tools now that can find out not only IF someone can sell but if the WILL sell – and that is something that just being a high school athlete cannot prove.
Register for this FREE webinar "The Magic Behind OMG's Sales Candidate Assessments" to find out how to know if your candidate CAN and WILL SELL!
There are great, unconventional candidates you should be looking at for diversity on your sales team and to build a better sales team. If everyone is similar you're missing out – you're leaving money on the table.
So don't believe everything you read – challenge it. Look in unconventional ways to find new sales candidates. And if you need help finding the RIGHT sellers, let us help you on that.
---

Lori Richardson is recognized on Forbes as one of the "Top 30 Social Sales Influencers" worldwide and is a Top 25 Innovative Sales Blogger. Lori speaks, writes, trains, and consults with sales teams in mid-sized companies. Subscribe to the award-winning blog for sales strategies, tactics, and tips.
Increase Opportunities. Expand Your Pipeline. Close More Deals. Develop Sales Leaders
email lori@ScoreMoreSales.com | My LinkedIn Profile | @scoremoresales | G+