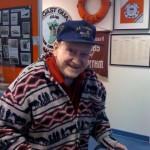 What can you say in a business blog about something so personal - the relationship you had with a parent? I write today because who you are outside of the office directly impacts who you are at the office. Luckily for me, my father, David Wesley Richardson was quite the influence in my life - and sadly, his days on Earth came to an end this past week after a long illness at age 87.
He was an entrepreneur after all - co-owning a pharmacy in North Seattle for many years. His father, whom my dad never had the chance to meet, was also a pharmacist and died a few months before my dad was born.
My dad had the qualities one needs in business and in life - honesty, integrity, intelligence, and a big heart. He was a veteran of both WWII as well as the Korean War. In the 1980's, he and my mom took in a family of 10 Chinese Cambodian refugees - that's after raising five kids of their own.
The biggest thing my dad instilled in me, however - is about kindness. I can't think of anyone he didn't like - and I can't think of anyone he talked about behind their back. This is the characteristic I will work to hone as time goes by. It is SO easy to put others down - especially when they are not there to defend themselves. Everyone has some redeeming qualities. As my dad worked in his church or as a pharmacist, he'd extend a hand to anyone - at least once. He'd use his big smile to help disarm someone and make them feel welcome or appreciated.
While my dad also encouraged us to "go with the flow" and not stand out too much - I realize now that it was more of a survival strategy than style lesson. For a long time, I felt that was bad advice - and have always worked to stand out in business - using my own voice, ideas, and uniqueness. Now I look back and realize he did the same - with his singing voice, his many selfless actions, and good natured personality.
In recent years, I was able to spend hundreds of hours with my dad due to his slowly progressing disease which did not slow him down until just the last six months.
Today I awoke, like a kid on Christmas, wondering if his obituary would hit the paper as planned - it did. I welcome you to read it if you haven't already, to give you a bigger sense of a great man. I'm hopeful that another one of us here on Earth can step in for dad - because we need more people like the man he was.
My dad was a devoted family man and loved all five of us kids. With his slow progression he gave us kids ample opportunity to become closer - a lasting gift that I hope everyone can experience.
Dad and I shared a couple of special things - we were both the youngest of five kids, and we were both born on Easter. It was only fitting that he left on Easter eve - on a standout sunny day like no other - the city of Seattle had experienced in months. I was there, along with one of my brothers and one of my sisters - as we honored the man who brought us into the world - and encouraged him to "fly, fly away." He will be missed, but never forgotten - after all, he sets the bar high for me in business and in life.