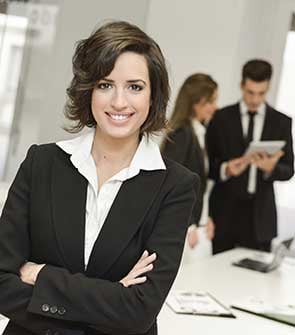 Over at Women Sales Pros we are creating a series of 100 interviews of B2B women sales leaders. If you are one, or know one we should interview, please share this post.
Even if you do NOT know a fantastic woman sales leader I ask that you share this because someone YOU know DOES.
Who is she?
She leads a B2B (business to business) sales team in any industry.
She might be a VP Sales – we'd love to hear her story.
She could be a frontline sales leader – we'd love to hear her story too.
Why am I working on a project to interview 100 women sales leaders?
We need MORE top women sales leaders in corporate North America.
In 2014, a paltry 19% of top sales leaders (Head of Sales to GM level) were women, according to the CEB.
There is also a trickle-down effect. When a woman comes in to interview for a sales position and sees no one like her in leadership, she knows it could be a dead-end to go there. So by championing and shining a light on more women sales leaders it will help get more women into sales positions at companies like yours – or that company you know that has no (or just a few) women sellers.
The purpose of the interview – done via email or audio or video is to gain stories to share with other women in sales – future sales leaders, we hope.
Something I learned 30 years ago from mentor Tony Robbins is that "success leaves clues".
Know someone we should talk to?
The questions we want answered are below. They can be emailed to me. Please share, and thanks for your support.
Name:
Company:
Title:
How did you get into a sales leadership role initially (at the company you are at or at the first company you had a sales leadership role)?
Who has championed, mentored, and / or sponsored you to succeed? (current or past supporters – great to mention by name if you want, or not if you want- up to you)
What do you aspire to do / be? (if you are not comfortable talking about the future due to your current role, we understand – just feel free to share what you want to accomplish or skills you want to develop)
What has your career in sales / sales leadership done for you?
What advice do YOU have for more women getting into sales or sales leadership?
Any story to share about your journey that might help someone else who was in your position?
Who else should we interview? (name, email, company, title please)
---

Lori Richardson is recognized on Forbes as one of the "Top 30 Social Sales Influencers" worldwide and is a Top 25 Innovative Sales Blogger. Lori speaks, writes, trains, and consults with inside sales teams in mid-sized companies. Subscribe to the award-winning blog for sales strategies, tactics, and tips.
Increase Opportunities. Expand Your Pipeline. Close More Deals. Develop Sales Leaders
email lori@scoremoresales.com | My LinkedIn Profile | @scoremoresales | G+