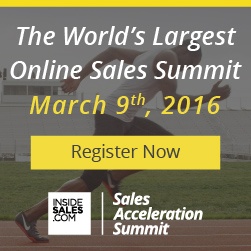 On 3/9, some of the brightest minds in the sales and marketing world are presenting at the Sales Acceleration Summit. We are sharing secrets in a rapid-fire series of online presentations on Wednesday, March 9th, 2016.
The purpose of the event is to bring successful authors, experts, and business leaders from across the world to one place.
I'll be speaking about women in sales because of International Women's Day next week. This session will be great for sales leaders and managers wanting to know more about growing diversity on their team as well as women who want to be stronger in their sales role.
The first Summit in 2013 attracted more than 15,000 sales leaders from all over the world. In 2015 they hosted over 30,000 attendees - and this year is going to be even bigger, better and more exhilarating.
There will be something for everyone. And it's completely free. Sign up right now - here.
Confirmed speakers for 2016 include many friends and colleagues:
Jill Konrath, author of SNAP Selling
Trish Bertuzzi, Queen of Inside Sales and author of "The Sales Development Playbook'
Amanda Holmes, CEO at Chet Holmes International
Jamie Shanks, Managing Partner Sales for Life
Jim Steele, InsideSales.com President of Worldwide Sales and Chief Customer Officer
Art Sobczak, author of the best-selling book Smart Calling
David Elkington, CEO and founder of InsideSales.com
Ken Krogue, President, Founder of InsideSales.com
Colleen Stanley, Founder & President Sales Leadership, Inc.
Mark Hunter, President The Sales Hunter
Mark Roberge, CRO, Hubspot
Brent Adamson, Principal Executive Advisor at CEB
Brynne Tillman, CEO, Social Sales Link
Tom Hopkins, The Builder of Sales Champions
Craig Elias, Founder Shift Selling
Kraig Kleeman, Author, Speaker, Global Strategist
Grant Cardone, CEO of Cardone Training Technologies
Jeffrey Gitomer, King of Sales
Eric Siegel, author of Predictive Analytics: The Power to Predict Who Will Click, Buy, Lie, or Die
Anthony Iannarino Author, President & CSO at Solutions Staffing
Jeb Blount, CEO Sales Gravy
Steve Richard, CRO ExecVision
Dave Mattson, CEO and President Sandler Training
Miles Austin, Founder Fill the Funnel
Mike Schultz, President of RAIN Group
Norman Behar, CEO & Managing Director Sales Readiness Group
Jennifer Gluckow, CEO and Founder Sales in a New York Minute
Richard Harris, Founder The Harris Consulting Group
AND ME! (Lori Richardson)
See full agenda when you sign up below.
Registering gets you access to the recordings even if you can't make the actual event on March 9th. Invest in yourself, register today - it's free.
Co-sponsored by: AA-ISP
Sponsored by: Salesforce, Microsoft, Marketo, Apttus, MapAnything and Domo
---

Lori Richardson is recognized on Forbes as one of the "Top 30 Social Sales Influencers" worldwide and is a Top 25 Innovative Sales Blogger. Lori speaks, writes, trains, and consults with sales teams in mid-sized companies. Subscribe to the award-winning blog for sales strategies, tactics, and tips.
Increase Opportunities. Expand Your Pipeline. Close More Deals. Develop Sales Leaders
email lori@ScoreMoreSales.com | My LinkedIn Profile | @scoremoresales | G+