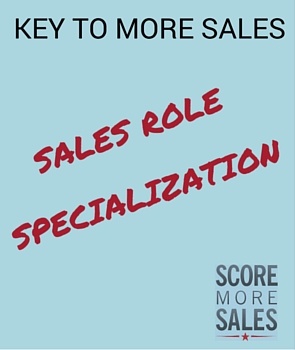 There was a time when nearly anyone in B2B selling was a Sales Generalist. We found our future buyers, worked to engage them, qualify them, nurture the relationship, and ultimately bring these sales opportunities to closure.
Times have changed – for the better. We now have role specialization. It is a great thing, because the skills for sales development in an SDR role are very, very different than those Account Reps working to close business.
Just think about it – if you are great at taking a qualified buyer down the path of doing business with you and your company – then that is all you should be focused on each day, every day.
If you are good at bringing deals to closure, you probably are NOT GOOD at searching for prospective next future buyers to work with, right?
Why do some companies have generalists still?
Hard to tell. It is not cost effective. If I take a "closer" away from pure closing opportunities, they waste time looking to find potential qualified new buyers.
If I take an SDR (Sales Development Rep) and invest months of time in helping them learn how to close business, I'm taking them away from THEIR focus of identifying "net new" potential opportunities.
Aaron Ross, co-author of Predictable Revenue says, "The single most important thing you can do to improve your sales and lead generation results is to specialize your roles."
In The Bridge Group's 2014 SDR Metrics Report, they identified that nearly 40% of companies have implemented role specialization (222 B2B companies were polled).
Back to the question of why companies still have sales generalists? Probably the same reason many still have "player / coach" sales leaders.
It seems to be that if you are warm in a pile of crud, well, at least you are warm. Why step out of it?
If you are a leader in a company where your reps are all generalists, I'd like to ask you a few questions:
What is the percentage of your reps at quota? Is there room to improve?
Are your reps finding enough time for prospecting? Enough time to focus on important deals?
How do you develop new, younger reps?
We have seen younger reps really respond well to a development plan that involves handling more sales responsibilities as they progress. So, they begin doing research and lead development. They progress to a Level 2 or "senior SDR" then on to the next level. They always have something to work toward and do not have to wait years to get promotions. You can't do that when you have generalists.
If you have any inbound leads coming in to your website you also need an Inbound specialist so that they can respond quickly and gain lots of experience talking to those coming to your website. Generalists don't follow up on inquiries as quickly according to several studies.
For more help learning about sales role specialization, please check out:
Is Complexity Killing Your Sales Model? - Bain & Co.
What are Sales Development Reps? – RingDNA
Specialize Your Sales Roles – Aaron Ross
OR
So do you still have generalists on your sales team? If not, when did you move to specialized roles? Share with us through Twitter at @scoremoresales and get a conversation going.
---

Lori Richardson is recognized on Forbes as one of the "Top 30 Social Sales Influencers" worldwide and is a Top 25 Innovative Sales Blogger. Lori speaks, writes, trains, and consults with inside sales teams in mid-sized companies. Subscribe to the award-winning blog for sales strategies, tactics, and tips.
Increase Opportunities. Expand Your Pipeline. Close More Deals. Develop Sales Leaders
email lori@scoremoresales.com | My LinkedIn Profile | @scoremoresales | G+