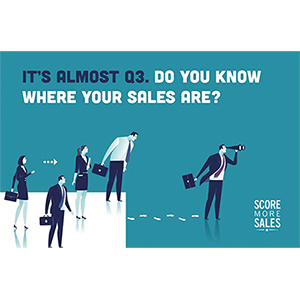 It IS almost Q3 and many people are behind in hitting their quotas. Over the years we have written about how distracted sellers get – and sales leaders do as well. We come up with ideas to help counter the slower pace of the first two months of Q3.
"Ready to Go Sales Meetings"
Having effective sales meetings is a MUST in supporting your reps to succeed.
Alice Kemper at SalesTrainingWerks created an awesome series of sales meetings with goals, agendas, skill boosters and energizing ideas. This series will give you an excellent stretch of organized, structured yet purposeful sales sessions.
Check out - Ready To Go Sales Meetings
I LOVE the idea that there are well-designed meeting ideas you can do with a sales team and that you can immediately have a plan for the next "x" number of weeks (or months). If I was leading a sales team I'd sign up to help beef up my summer sales meetings and give some idea of upcoming topics for my reps.
If you come up with sales topics on your own, check out the following resources:
Alltop – a page full of many great sales blogs
Top 50 Sales and Marketing Blogs from Top Sales World – Top 50 Sales Blogs 2017 (including ours here at Score More Sales)
Top Sales World Magazine – excellent articles on current sales and sales leadership topics
Top 50 Sales Influencers You Should Follow Now – Treeline's list is a great one here
"Make a Plan and Work the Plan for Great Sales Meetings"
A big point for this time of year is CONSISTENCY – plan when your sales meetings are – hopefully weekly, and HONOR that time. Do not cancel because a few people are out of the office – keep having meetings and the consistency will reinforce your commitment for structure and support for your reps.
Get your sellers involved! What topics are of interest to them? What would help them close business today?
Mix it up – have a Blitz day where everyone gets on the phones (and email) and follows up with stalled sales opportunities and with people they have not been able to reach. Another Blitz day could be focused on "net new" warm lead contacts. Awards like gift cards make for a fun half day or 3 hour session. Who talked to the most DMs? Who brought an opportunity to closure?
Share with us on Twitter @scoremoresales what YOUR sales team does to mix it up, have fun, and keep momentum going this time of year.
---
Lori Richardson helps mid-sized companies grow revenues by solving key issues in their sales department - like recruiting, retention, diversity hiring, process, pipeline and leadership. She speaks at CEO groups on topics of sales growth. Clients include companies in the technology, telecom, manufacturing, distribution, and professional services industries. Subscribe to the award-winning blog, follow her on Twitter
Increase Opportunities. Expand Your Pipeline. Close More Deals. Develop Sales Leaders
email lori@ScoreMoreSales.com | My LinkedIn Profile | @scoremoresales | G+