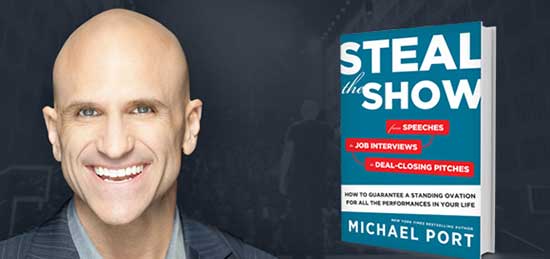 There is one group of people who can become convincing, persuasive and downright attractive at the drop of a hat … even if they're naturally introverted and shy.
They can "switch on" the charm and delight their audience every time, whether the audience is just one person, or an entire theater full of critics.
Those people - the Hollywood and Broadway actors - do this by stepping into "roles" that can be entirely removed from their off-stage persona … or be a close match to their real-life persona, depending on the demands of the situation.
Now, my good friend Michael Port, the New York Times bestselling author of Book Yourself Solid, has a new book coming out that bottles up all of the secrets of the world's greatest performers and demonstrates how you – sales professional or emerging leader - can use them to perform better in every aspect of your life.
It doesn't matter whether your "performance" is in front of your boss, your clients, your kids, an interviewer, a group of venture capitalists or even an audience full of people hanging on your every word - this book is for you.
Michael's book is called Steal The Show and it's all about:
influencing your audience when it counts
succeeding in high-stakes situations
making the most of all the spotlight moments of your life
...no matter WHERE you are, WHO you're talking to and WHAT you need to say.

You have a chance to get early access to Steal the Show – two months before it's released on Oct 6 - and immediately benefit from the strategies, tools and resources you need to help you stand up and present in a way that makes people listen.
Do NOT miss this opportunity!
Here are TWO reasons why I encourage you to do that:
Michael's publisher has taken the unprecedented step of giving everybody who pre-orders a copy of Steal the Show an advanced reading copy RIGHT NOW
Not only that, but Amazon is running a crazy 50% discount on the pre-order price, so NOW is the time for you to take advantage before they change the price.
I've known Michael for over 15 years and have huge respect for his work. This book is no exception.
In fact,
I give Steal The Show my highest recommendation.
And if performing at your very best is as important to you as it is to me, then TODAY is the right time to get your advanced copy of "Steal The Show".

Click here to claim your advanced reading copy right now

Lori Richardson is recognized on Forbes as one of the "Top 30 Social Sales Influencers" worldwide and is a Top 25 Innovative Sales Blogger. Lori speaks, writes, trains, and consults with inside sales teams in mid-sized companies. Subscribe to the award-winning blog for sales strategies, tactics, and tips.
Increase Opportunities. Expand Your Pipeline. Close More Deals. Develop Sales Leaders
email lori@scoremoresales.com | My LinkedIn Profile | twitter | Visit us on google+