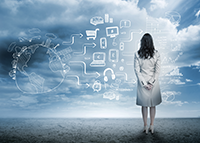 With everything happening in the cloud now, we require managed services providers, or MSPs. Their creative solutions and the amount of effort they put forth to be proactive can determine their success or lack of it.
Be More Creative and Grow Business
When it comes to creativity, many of us stopped thinking about that when we stopped music lessons or art classes. The ability to put a creative idea out to a buyer or solve a customer issue through a creative approach is critical to company growth.
IBM has completed over 23,000 in-person interviews with its Global C-suite Study over 10 years and it has been interesting to read the results of the data each year. In 2010, creativity bubbled up to the top, and has been a factor in the more recent priorities of collaboration and new customer experiences.
Do you feel creative? Here are two ideas:
In order to offer more creative solutions, you need to make regular time in your schedule to think, or brainstorm new solutions to existing issues. For example, if I am routinely getting stalls having conversations with prospective new customers – I have a great conversation then the buyer goes "dark"- making time to sit down with colleagues and strategize solutions can solve this issue. Block out time in your calendar weekly for what is stalled and what can become "unstuck".
Next time you feel you have a solution to a problem, try to come up with two more. In a fast-paced tech focused world, we are quick to solve and quick to respond. Many times, the last idea we come up with is the most elegant solution - so push yourself to come up with more ideas.
Example: Cloud-based Marketing Services -
One of the newest strategies is to deliver personalized messaging to nurture prospective buyers as well as existing customers in ways that we do not regularly see yet. Instead you see lots of impersonal email and you also see personalized individual email (through sales reps) but not in scalable ways. Buyers expect, and almost demand to feel like they are having a one-to-one experience rather than redundant or incorrect messaging. When I sign up for an event, I don't want to keep seeing that company sending me a "hurry and sign up" message. I want the, "we can't wait to see you" message.
Be More Proactive and Grow Business
With so much data now about our marketing, outreach, sales, and service results it is imperative to make time to assess and analyze in order to proactively plan for future business efforts. You may feel proactive but are your partners? How do you get your partners in business to become more proactive? Here are two ideas:
Set up quarterly account planning sessions with your partners. Some partners represent multiple manufacturers so it is difficult to always have their ear. By holding a planning session focused on WIIFT – "what's in it for them" – you will have more engaged and interested interaction.
Just like you do for prospective customers, work with partners to offer them insight and ideas rather than just information. By interacting regularly rather than reactively you'll help create an environment of proactivity.
A final thought – make creativity and proactivity a focus or a theme for your team next quarter. Reward the most innovative ideas that come up. Stress the theme with partners and recognize them for creative problem solving. Evaluate at the end of the quarter and measure the improvements.

This post was written as part of the IBM for Midsize Business program, which provides midsize businesses with the tools, expertise and solutions they need to become engines of a smarter planet. I've been compensated to contribute to this program, but the opinions expressed in this post are my own and don't necessarily represent IBM's positions, strategies or opinions.

Lori Richardson is recognized on Forbes as one of the "Top 30 Social Sales Influencers" worldwide. Lori speaks, writes, trains, and consults with inside sales teams in mid-sized companies. Subscribe to the award-winning blog and the "Sales Ideas In A Minute" newsletter for sales strategies, tactics, and tips. Increase Opportunities. Expand Your Pipeline. Close More Deals.
email lori@scoremoresales.com | View My LinkedIn Profile | twitter |Visit us on google+