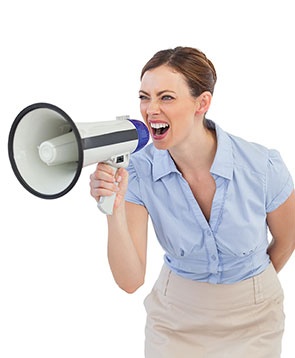 Recently, the American Management Association (AMA) surveyed over 1100 people to learn what annoyed people the most about working with a salesperson.

The top three things that bother people about a salesperson are:

1. Being too pushy - 24%

2. Not taking "no" for an answer - 23%

3. Not listening - 18%

For more about the AMA survey click here.

What they don't do is explain the details of the survey - are these business-to-consumer experiences or business-to-business experiences. Either way, it shows that the stereotype of the pushy salesperson with no listening capabilities is alive and well.

Over many years in a sales role, I've learned that there is a fine line between pushing for an action to move things forward AND being too "sales pushy"

Sales pushy is moving forward at the expense of everything else. It is not considering your buyer. Being pushy to the point people don't like it is arrogant and self-focused. It is done without good self-awareness (or disregard).

Being known as pushy hurts your reputation and kills your business.

Unfortunately there are a number of newer sales reps who do the opposite – they seem to present and move on to the next opportunity because they "don't want to seem pushy".

Here is another way of looking at being pushy – instead be a guide.

Help guide buyers in the direction of a great solution for them and for your company – if there IS one.

First you have to believe in your products and services as being of help to buyers in their situation. Once you do, you can guide them toward your solutions.

The Way to Lead is to Guide and not Push

Even as a salesperson you can become a sales "leader". To do this, you help lead others to making a decision one way or the other. Sometimes that decision is a "no". Getting a quick "no" is so much better than a "slow no". By understanding your buyer and working to lead them forward you can guide a quicker decision and everyone moves forward.

PUSHY: feels uncomfortable. Think of yourself as a consumer. Will you buy something just because someone else is ready for you to? This often surfaces at the end of the month or quarter.

GUIDING IS LEADERSHIP: Take the lead to set a next conversation with your buyer.

Take the lead to ask your buyer what they think so far about what you are presenting.

Take the lead to always set a next action.

Example: Once you have an initial conversation with a buyer they might say they will get back to you.

In selling, we need to help guide that next action, so you can then say:

"Fantastic, I look forward to hearing back from you. Just in case you get busy or something unusual happens at work – how about I give you a call next week if I haven't heard from you?"

ALWAYS work to set a next action. If you didn't get a next action and just agreed to let the person who is now seeming so interested in your products or services to get back to you - what do you do if you don't hear back from them? When is the right time to follow up? That's why you always need a next action - it helps you do your job of sales better. You agree with your prospective buyer when you'll be talking again.

When you leave voice mail let the buyer know what you are doing next.

"If I don't hear back from you, I'll send you an email in case it is easier for you to reply that way"

If they say they need to think it over, this is a great time to understand what it is you didn't present well.

"Sounds good – let me ask you – what do you like about what we've discussed. What resonated with you?"

If they say they need to get someone else's input –

"I understand. And… if it was totally up to YOU to make the decision today, what would YOU decide?"

This gives you specific objections your direct buyer has – resolve them if you can, before they go to someone else to "sell" on your behalf. (that's another issue we'll tackle later)
Step up and be a leader with your buyer instead of being pushy
Learn to listen better, and meet your buyer where they are
If you do this, you'll get referrals and praise even from those who do not buy from you.

Lori Richardson is recognized on Forbes as one of the "Top 30 Social Sales Influencers" worldwide and is a Top 25 Innovative Sales Blogger. Lori speaks, writes, trains, and consults with inside sales teams in mid-sized companies. Subscribe to the award-winning blog for sales strategies, tactics, and tips.
Increase Opportunities. Expand Your Pipeline. Close More Deals.
email lori@scoremoresales.com | My LinkedIn Profile | twitter | Visit us on google+