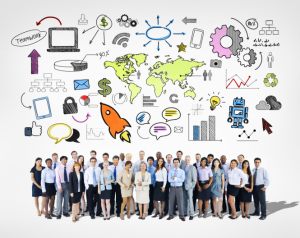 A mid-sized, mid-market company has some great advantages over a giant, slow-to-change organization when it comes to shifting to a more social approach to learn about your buyers and reach those buyers. After all, buyers are online and are reaching out for social proof about the services and products they seek for their businesses. Some are even looking for you socially. Where are you?
One of the best first steps you can put into place (aside from hiring an expert to help you put a full plan in place to get your sales and marketing ready for 2015) is to focus on listening.
Listen for Prospective Buyers
Listen for prospective buyers who are asking about which products / brands are best in your industry niche. At first, watch and learn about what they are asking. It will be tempting to not just send them information about how great YOUR products and services are – but don't do that. First listen, learn and see how others interact.
It's similar to going to a foreign country. I don't know about you, but I am going to do some watching and learning – asking a lot of questions before I start commenting on things. A well-meaning sales rep can ruin an opportunity by blurting out – trumpeting – all that you do and why you'd be great for them. Don't do it.
Now What?
When you feel like you do see a great "probable" potential buyer (meaning that you think you'd be great for them and they'd potentially be a good client for your company) don't bulldoze them down. Reach out to say hello and see IF they are looking for another opinion or idea. When the say yes, see if you can pique their curiosity and take the conversation off-line – especially if you can call them to talk. If they do not reply, move on. You can always revisit this potential buyer through a number of means.
What Else Should You Listen For?
Listen for disgruntled customers of your competitors.
Verizon regularly looks for unhappy customers of competitors and tries to connect with them on Twitter (according to Kashmir Hill of Forbes.com.) read the article here
AT&T has a Twitter account called @ATTDeals that targets their competitors' displeased customers.
What Else Can You Do?
Watch your existing customers to see what they are talking about. I found out on Twitter that one of my clients made a very large charity donation that I had not heard about otherwise. By learning this, I have something relevant and timely to say to my contacts next time I talk with them.
Watch for Patterns
Sales is all about seeing patterns and finding creative ways to reach out that begin or continue a two-way conversation. I can learn so much about my clients by seeing what they do socially. Are they on Google + or Twitter? Do they create LinkedIn updates or actual posts? An hour spent weekly looking up several clients social conversations can greatly assist you in having something to say to them other than talk about products.
If you really haven't gotten the hang of this yet, try for a 1% improvement every day. Crawl before you walk. And ask for help – there is lots of it available.

This post was written as part of the IBM for Midsize Business program, which provides midsize businesses with the tools, expertise and solutions they need to become engines of a smarter planet. I've been compensated to contribute to this program, but the opinions expressed in this post are my own and don't necessarily represent IBM's positions, strategies or opinions.

Lori Richardson is recognized on Forbes as one of the "Top 30 Social Sales Influencers" worldwide. Lori speaks, writes, trains, and consults with inside sales teams in mid-sized companies. Subscribe to the award-winning blog and the "Sales Ideas In A Minute" newsletter for sales strategies, tactics, and tips. Increase Opportunities. Expand Your Pipeline. Close More Deals.
email lori@scoremoresales.com | View My LinkedIn Profile | twitter |Visit us on google+