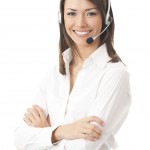 Are you a woman in the lead gen business in B2B selling? Do you work at the front end of the sales cycle generating hundreds or thousands of leads over time for your company (or companies)? There is a search going on for the Top 20 Women to Watch in Sales Lead Management. Are you a man who knows of a woman colleague, client, or partner who should be nominated?
See Sales Expert Jill Konrath's video message about it.
This is time-sensitive. You must make your nomination or nominate yourself right away.
I am flattered to have been nominated for this recognition - and would like to learn of more women involved in CRM, prospecting, lead identification, and inside sales in general.
See the nominations so far, and help get the word out!
Lori Richardson is recognized as one of the Top 25 Sales Influencers for 2012 and speaks, writes, trains, and consults with inside and outbound sellers in technology and services companies. Subscribe to the award-winning blog and the "Sales Ideas In A Minute" newsletter for tips and strategies in selling.