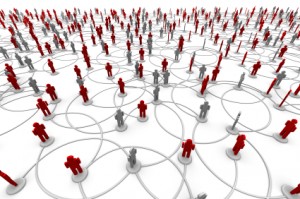 Mike, who is a B2B sales guy asked me a great question:
"WHY DON'T MORE SALES REPS PRACTICE ASKING FOR REFERRALS AFTER THE SALE…. I think that big organizations my company sells into have a very big influence at alumni and C-level meetings our C-level contacts attend throughout the year. The referral from this level would be very powerful. Would you agree?"
1. Just like most humans, many sales professionals fear rejection. This makes asking for referrals an activity that is less "fun" for some to do. [This can be overcome in a simple manner - they just have to learn how to ask in a way that adds value.]
2. Asking for referrals as a regular part of a company's sales activities requires organization, process, and a plan. In a bigger organization, a marketing team might have specific customer reference team members who focus solely on building up a reference library and referral program. In many SMBs and mid-market companies, often the strategy to ask happy customers for referrals just does not happen.
3. They don't understand how powerful it is to do this? I don't know.
Mike, you are right in that the educational and professional alumni groups that some of our buyers belong to are like a big ocean of fish just waiting to be connected to. Our C-level buyers attend events where their peers from OTHER companies hang out together. Our referrers and recommenders at our client companies also hang out with their peers from other companies at association and awards events.
It might just have to start with you, Mike. Here are a few things you can do now:
A. Look up some existing customer companies on Linkedin and see if you have any connections to them. This is a good goal for anyone in sales - have at least 400-500 professional contacts in LinkedIn so that you can make 2nd and 3rd degree connections this way. [work on this if you don't!]
B. Look at who is on the Board of Directors for some of your existing client companies. Do any board members run (or are a part of) any of your prospect companies? THIS is a no-brainer. You should be looking for these all the time.
C. Make sure you have a social listening program in place - even if you do it yourself. Tools like InsideView, DiscoverOrg and others can alert you to events that should trigger you to contact them - leadership changes, mergers, and other corporate activity. Even with no marketing budget, you can sign up for free versions of some of these, and get someone to teach you how to maximize your LinkedIn and Twitter activity.
[We can help you with that, just ask]
How do you get YOUR sales reps to follow-up with existing customers to get potential referrals?
Does your marketing department oversee this?
Post your thoughts because many minds are better than any one mind.

Lori Richardson is recognized as one of the "Top 25 Sales Influencers for 2012" and one of "20 Women to Watch in Sales Lead Management". Lori speaks, writes, trains, and consults with inside and outbound sellers in technology and services companies. Subscribe to the award-winning blog and the "Sales Ideas In A Minute" newsletter for sales strategies, tactics, and tips in selling.