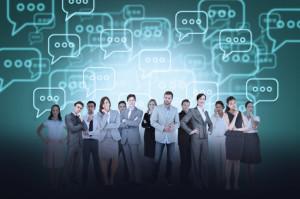 For years and years in sales it was all about who you knew, and who knew you. Referral selling was the bane of my grandmother's fine women's apparel store business - a concept in business which America was built on. (I wrote about my grandmother's store earlier this year on the Hubspot Inbound Sales blog)
The rampant web of social knowledge these days has parted the waters. When before it was all about relationships, a new body of water has been created around "what you know". Which river will take you to the where your buyers are? This is the debate that has come about over recent years in professional selling.
Choosing sides would be silly for any sales professional, sales leader, or business owner working to grow revenues. In MY opinion, they both lead to one ocean - which I'll get to in a minute. But first, let me clarify:
Who you know is about the relationships you build one person at a time, and about the visibility you gain over time as the guy or gal who knows about _______. You are the person that gave great help and service so people send all of their connections your way. You take impeccable care of everyone that is referred, therefore referrals continue. It is the backbone of your business. People know you because you first knew them and their connections in their wold. For many in professional selling, it makes for a very rewarding career.
What you know today is critical for success in selling. Long gone are the considerations given just for knowing someone - it boils down to whether you know your buyer and can add insight and value to what they are dealing with in their world. Busy buyers have no time to build friendly relationships - they need to solve issues and gain ideas to improve their business and they often need it now. Thanks to inbound marketing, you could live in a remote igloo and build an overwhelmingly successful business simply by creating content that answers the questions your buyers are looking to get answered when they go online. You don't need to know anyone in the beginning - just your market and how to solve problems and gain competitive advantage in it. If all goes well, your reputation will grow and grow until buyers and their circles of influence know you. This is how Marcus Sheridan, now known as the Sales Lion, got started.
Here's the great part - both journeys can get you to the body of water where your buyers are. They BOTH end up creating the world of "WHO KNOWS YOU" - and through your likability - either individually helping referrals OR from the body of content you create online - you end up where you want to be - where your buyers KNOW YOU, LIKE YOU, and TRUST YOU.
So, take both paths. Quit arguing about which one is better - embrace both. You'll find that each one has it's strengths and fun - yes, fun. Professional selling needs to be fun. Professional selling is all around us - it is the helpful online community and it is the tax consultant your relative just referred you to. Both paths work and they work well - but are more effective when done together.

Lori Richardson is recognized on Forbes as one of the "Top 30 Social Sales Influencers" worldwide. Lori speaks, writes, trains, and consults with inside sales teams in mid-sized companies. Subscribe to the award-winning blog and the "Sales Ideas In A Minute" newsletter for sales strategies, tactics, and tips in selling. Increase Opportunities. Expand Your Pipeline. Close More Deals.
email lori@scoremoresales.com | My LinkedIn Profile | twitter | Visit us on google+