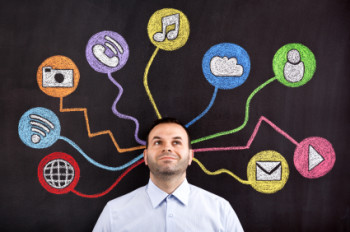 [First, a hat update: Many readers know that I shaved my head to help raise money for cancer research, and now I'm collecting hats a) to keep my own head warm here in chilly New Hampshire and b) to donate them all to the Dana Farber Young Women with Cancer program. We'll be posting a link daily with the "latest" in headwear donated to the cause. Today, I'm pleased to share the amazing topper donated by Jonathan Farrington of Top Sales World. Go here to see all the hats donated so far]
It's funny to hear people debating about how and when social selling will be further adopted. As long as I can remember, selling has ALWAYS been social. We have always had to communicate with potential buyers, ask for referrals, work trade shows, and advertise / market for new business. The big change now is the tools and technology.
Sellers and sales organizations, like most everyone, often see change as hard. Unless you can show me an immediate benefit, why should I change?
This blog will be looking into all of the ways - easy ways, that a sales professional can get "more social" with his clients, prospective clients, and strategic partners. What's in it for you, if you are a seller or sales leader is MORE revenues, and some great satisfaction in learning new strategies for building business.
We will be diving into:
The state of social selling
The basics that are often overlooked
Why sellers miss this one BIG idea
10 tools and technologies to be most helpful
What companies are doing it right
What companies are doing it all wrong
All along the way we will share resources and ideas that can be put right into place, or can be worked into a planned effort to grow sales at your company.
We will be sharing thoughts from the top colleagues in social selling and how they are shining a light on strategies that work.
Your thoughts are always appreciated - starting tomorrow, the discussion begins.

Lori Richardson is recognized as one of the "Top 25 Sales Influencers for 2013" and one of "20 Women to Watch in Sales Lead Management for 2013". Lori speaks, writes, trains, and consults with inside and outbound sellers in technology and services companies. Subscribe to the award-winning blog and the "Sales Ideas In A Minute" newsletter for sales strategies, tactics, and tips in selling. Increase Opportunities. Expand Your Pipeline. Close More Deals.
email lori@scoremoresales.com | My LinkedIn Profile | twitter | Visit us on google+