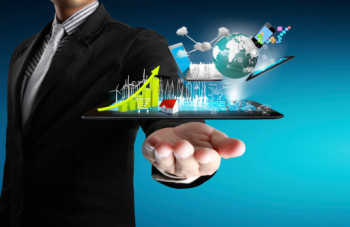 Gone are the days where it took 30 minutes to set up your office work area with all of the things you'd need to help you sell. Now we are a mobile society of sellers and we need tools that are simple and easy to use. Need to look someone up? Grab your smartphone and favorite app for that. Want to get more insight about key members in your next meeting? There's an app for that too. Lots of them.
Recently I had a great conversation with Fred Studer, GM of Microsoft Dynamics at Microsoft. We talked at length about how two trends have changed the way sellers sell and buyers buy – that is that we are a social, mobile, b2b world now.
Of the entire conversation, we recorded a short snippet:
Fred is so enthusiastic because now sales reps can become more empowered with the insight they need to sell better and not only meet the needs of buyers but become so valuable to buyers it makes for differentiation.
Keeping it Simple
As buyers we need simple solutions that work, and as sellers we need to be able to go to one place for data and insight – not so many places that we get frustrated and slow. The ability to be agile is what can set a seller apart from the rest of the pack – from average response and average support to unparalleled.
The mobile trends in our lives along with social selling abilities have changed the expectations for how we market and how we sell, according to Studer.
Changed Expectations
Today, when a buyer goes out for ideas and knowledge online, they are moving at a fast pace. By the time they reach a prospective company to buy from, much of the research has been done. In fact, your company may have already been eliminated and you will never even know you were thought about unless you call them and learn that they already went through their buying process. Buyers are often fuzzy about where they looked and even who all they contacted via the web, so it is hard to piece together where you went wrong to have not become a finalist in their search.
So What do You Do?
Get in the game! You need to have a strong, helpful virtual presence along with products and services that add value to your potential buyers' worlds. One place is not enough – in other words, don't just have a LinkedIn presence – have a vibrant company website that serves as your hub online. You always want people to come to you, not only to your content on other sites. Why? Ultimately, your company owns its website and all the great content outside of your website resides on other people's sites. You can control what you do and say on your company website, and link to your channel partners or other associates rather than somehow finding ads and links to competitor sites.
That doesn't mean stop putting content out there – because through LinkedIn, and Twitter, and other social sites you can share ideas and add value to potential buyers, partners, and customers which will lead them to your site and your world.
You Must
Have a great mobile presence. Right now, look up your company website on your smartphone. How does it look? If it is bad, get it fixed. Half or more visitors will find you this way.
Stop writing long emails to potential buyers and partners. Many will read (or delete) on their smartphone.
Create a great presence online and monitor what your customers, partners, and prospects are saying. Find ways to participate in conversations without trying to sell them. Engage and add value through insights that they would be interested in based on their role and their industry.
Do these things, and over time, your visibility grows – as do your sales opportunities. That ultimately means more new business.

This post was written as part of the IBM for Midsize Business program, which provides midsize businesses with the tools, expertise and solutions they need to become engines of a smarter planet. I've been compensated to contribute to this program, but the opinions expressed in this post are my own and don't necessarily represent IBM's positions, strategies or opinions.

Lori Richardson is recognized as one of the "Top 25 Sales Influencers for 2013" and one of "20 Women to Watch in Sales Lead Management for 2013". Lori speaks, writes, trains, and consults with inside and outbound sellers in technology and services companies. Subscribe to the award-winning blog and the "Sales Ideas In A Minute" newsletter for sales strategies, tactics, and tips. Increase Opportunities. Expand Your Pipeline. Close More Deals.
email lori@scoremoresales.com | View My LinkedIn Profile | twitter | Visit us on google+