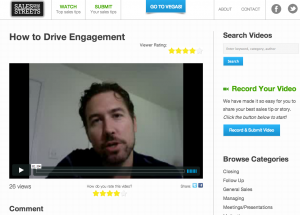 At a recent sales training session, I polled the large group to see who reads professional development books and books about improving your sales skills. There were very few hands that went up. Rather than being totally bummed out by this since I'm a voracious business book reader and recommender, I want to propose an option for those who don't read a lot but DO want to learn, grow, and improve - the option is to watch the right videos which can show you specific, targeted skills and ideas.
One of the best that I like is called Sales From the Streets - a place where anyone can post their best sales tips and anyone can view for a quick 2 minute lesson. I like them because they are real people giving tips that work. They are non-promotional and they are quick. Many ideas are simple yet a lot of people don't do them.
Another great resource are the videos done by Jill Konrath - she has been sharing great content in the form of short video tips for several years. If you are not subscribed to her list, you need to be.
One other site that has been around for a while is CanDoGo where 150 sales experts share tips and ideas - another free site.
I am looking for other sites that have fresh sales tips and strategies - if you can recommend one, please post as a comment. Where else do you gain just-in-time sales skills and ideas?

Lori Richardson is recognized as one of the "Top 25 Sales Influencers for 2012" and one of "20 Women to Watch in Sales Lead Management". Lori speaks, writes, trains, and consults with inside and outbound sellers in technology and services companies. Subscribe to the award-winning blog and the "Sales Ideas In A Minute" newsletter for sales strategies, tactics, and tips in selling.