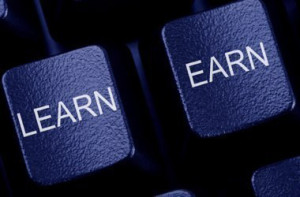 There is so much information about selling online. Where do you start? What do you read?
If you consider yourself a lifelong learner, you are searching on the web for any piece of valuable advice to help you grow sales that you can find, right?
I've been fortunate to be a part of many helpful, actionable webinars over the past few years and it seems that a bumper crop are here - coming up - and I'd like to share some of them with you. Notice the difference between what I'm sharing and what else you might find online is that these don't hook you in for free then ask you to buy something. These are all no cost, virtual sales education sessions. The sponsors purpose is to build their brand, better brand recognition, and to show value to you as their customer or potential recommender. I'll be posting more of these as time goes by, but check out what is happening in June:
Tues., 6/10 11AM PT / 2PM ET I'm a panelist in what will be an amazing group of 22 social sales experts in a Google Hangout on Social Sales JAM Session - more info here.
Wed, 6/11 10 AM PT / 1 PM ET Sales Shebang has a virtual class on Social Selling that I am moderating - with Barbara Giamanco, Alice Heiman, Celina Guerrero, and Lynn Hidy as our panel. They are sharing stories about success and how to's - plus time for Q&A. Anyone in sales or sales leadership welcome - Register Here
Wed, 6/18 8AM PT / 11AM ET join us for 10 Ways to Have More Profitable Sales Meetings hosted by Brightalk. Get the scoop here.
Later 6/18 at 10AM PT / 1PM I'm sharing my 7 Tips to get More Sales Results THIS Week, hosted by Hoopla. All the details are here. Just one tip could help you close an extra deal this month.
What are you doing for ongoing, life-long learning? Post your strategies and we'll share them. The business world changes every day - you gotta be learning!

Lori Richardson is recognized on Forbes as one of the "Top 30 Social Sales Influencers" worldwide. Lori speaks, writes, trains, and consults with inside sales teams in mid-sized companies. Subscribe to the award-winning blog and the "Sales Ideas In A Minute" newsletter for sales strategies, tactics, and tips in selling. Increase Opportunities. Expand Your Pipeline. Close More Deals.
email lori@scoremoresales.com | My LinkedIn Profile | twitter | Visit us on google+