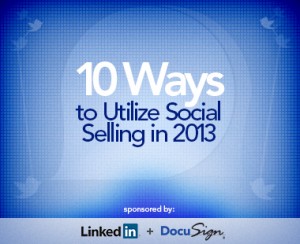 Be sure to listen to the great "10 Ways to Utilize Social Selling in 2013" webinar that Linkedin and DocuSign hosted today if you missed it. (click here for the webinar recording).
The Postwire page (one of my favorite tools for curation) has all ten of the tools mentioned, plus links to the presenters, moderator, and sponsor pages.
More notes to follow.
What tools are you using to grow sales?
What did we miss in our "top 10?" What tool could you not work without?

Lori Richardson is recognized as one of the "Top 25 Sales Influencers for 2012" and one of "20 Women to Watch in Sales Lead Management". Lori speaks, writes, trains, and consults with inside and outbound sellers in technology and services companies. Subscribe to the award-winning blog and the "Sales Ideas In A Minute" newsletter for sales strategies, tactics, and tips in selling.