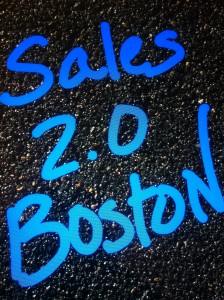 In order to learn and grow, you need to get out of your routine or your comfort zone and learn new things. [VIDEO BELOW]
Being at Sales 2.0 in Boston this week, I spent a full day away from the office but it is critical to see what others are talking about when it comes to sales enablement, sales strategy, new selling tools, and in increasing company revenues. I can't afford not to be there.
Gerhard Gschwandtner, Founder and CEO of Selling Power and Sales 2.0 Conference opened the event talking about key action items for sales management success. Important items included in his list were:
Change before you have to (if not now, when?)
Face reality as it is (not as you wish it to be)
Gerhard talked about how knowledge has no power anymore – anyone can get self-serve knowledge anytime of the day or night online. It is INSIGHT that is needed, and context.
Today it is about speed of change.
There are over 2000 applications to help sales people and sales teams sell. Most people are overwhelmed at the thought of that – so some companies just turn away rather than taking time to learn about one or two that might reduce costs or increase revenues.
Dave Fitzgerald from Brainshark presented on the "Perfect Storm" of mobile, social, and video with which their convergence is creating epic change in business. There are massive shifts happening in the sales profession, including the displacement of outside sales professionals in favor of inside sellers, thanks to the trifecta elements where one can run a business globally in a total virtual manner.
Because of all of the SaaS applications that Brainshark uses, they have no programmers, no servers, and no IT department. Everything they do runs through the cloud. They invest a lot per rep for all of their licenses for cloud apps – and while I don't know their current financial situation, they had record sales in 2011.
When it comes to thinking about new ways to grow business, Todd McCormick of PGi shared that what winning companies are doing to differentiate is to embrace video for customer interaction, internal training, connecting with remote workers, and more.
Video is a game changer – email and phone calls cannot impact a conversation to the same degree as video can – yet many companies are not embracing it as they could be.
Todd also talked about the hours and hours wasted through unproductive meetings – think about the meetings you attend and count up any unproductive time.
Sales leaders listened to Ryan Kubacki , CEO of Holden, Int'l give specific examples of an effective way to coach sales people about sales opportunities as well as an ineffective way. The contrast was clear – we need to ask the right questions of our sales team members to discover ways we can gain the advantage with a potential sales opportunity. It's not enough anymore to just know when a deal is supposed to close. We need to know what they options are, and who we are competing with. Reps need a distinct strategy to win business.
In the afternoon, there was a panel discussion on Social Selling called, Buyer 2.0 – Why Social Networks & Sales Intelligence Improve Sales Rep Effectiveness – that topic that B2B companies debate regularly. It was a good mix of opinions and ideas moderated by Peter Ostrow, of the Aberdeen Group. Panelists Kyle York, Barb Giamanco, and Jonathan London shared a number of ideas.
[youtube]http://youtu.be/H5OuZjOujoA[/youtube]
Kevin Purcell, Sales Director at HP spoke about a framework for healthy and long-term sales productivity and the importance of knowing the metrics around it. You can see a video of Kevin speaking here (from a previous event)
The final session was on proven strategies from the world's sales leaders led by Manish Goyal, Partner at McKinsey & Co. There was so much content that it is deserving of a follow-up post
What are you learning today, this week, this month, this quarter, or before the end of the year? Is whatever you have thought to learn written down? Is it a "nice to have" or is it something you must do to succeed?
What I have always loved about sales professionals are that most – at least the good ones – always want to know more. They want to know why out of 10 deals proposed, they only won 6. They want to know what they didn't do or didn't say when a deal stalled, and then died that they should have. They want to find new ways to be more efficient and effective.
Hopefully their sales managers and company leaders support this interest in learning and improving. Our suggestion is this:
Work to improve 1% every day. To do this, you need to learn new skills and insights.

Lori Richardson speaks, writes, and trains on sales strategies for B2B mid-market technology front-line sales teams. Why not sign up for our twice-monthly newsletter, "Sales Ideas In A Minute" or the award-winning blog rss feed?