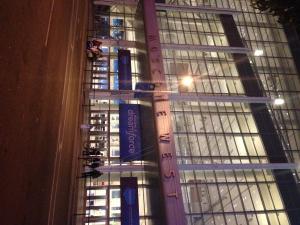 After attending my 7th Dreamforce conference / party / experience this week, I can't help but post on some of the top takeaways as a participant and attendee.
I remember a few years back when Mark Benioff, CEO and founder of Salesforce.com said there would be 100K attendees at the event that year - it seemed like a bit of an exaggeration - for PR purposes. Maybe there were 80K, maybe 100K, but it didn't feel crazy.
It is definitely crazy now with Dreamforce taking up just about everything going on near the SoMa district - including nearly a dozen hotels hosting events and private tech parties. As I leave beautiful San Francisco, I take these lessons with me:
Always be the HUB Rather Than the Spoke - Salesforce.com has created a colossal HUB of an event - everyone who is anyone in SaaS. CRM, startups, Fortune 100, midmarket - are all attending at least once or every couple of years or more. Many vendors know the value of exhibiting every year here. Sales experts show up en masse. It is always nice when you can be stationary and others can come to you. How can you do that in your business or industry?
Keep Changing Things Up - Dreamforce 2014 had a new configuration for how things were set up this time around - keeps everyone on their toes. This also keeps things fresh for repeat attendees. I liked how they had keynotes being shown at multiple locations so you did not have to complain about being in a long line to get into a keynote session. Instead you could comfortably watch from many different venues.
Improve Upon the Basics - This year with more attendees than ever also was for me, the most organized and easy to understand. I found that signage was great, and there were more helpers than ever who could find an answer out if they didn't have one. You would think this would get worse as crowds get bigger, but it was actually better than ever. Someone is taking good notes after the previous year's feedback.
It's Great to Be Involved - I was a speaker on Sales Productivity on one of the mornings and it was special to be one of the presenters at Dreamforce. In addition, I spoke at the InsideSales Influencer sessions and was live streamed talking about how sellers and sales leaders need to remember to "Keep it Simple." and stop over-thinking things to sell more.
Keep Setting Lofty Goals - There was a stated goal to have everyone bring cans of food and help donate one million meals to help those in need. If that goal was reached, Tony Robbins would match it, and so would Mark Benioff. Well, it happened! I love the contributions that this company makes to the community at large in many different ways. Keep thinking big. How can you and your company impact your community?
I head home exhausted but proud to be part of this community and a regular at this amazing event. If you attended live or virtually, what did you think?

Lori Richardson is recognized on Forbes as one of the "Top 30 Social Sales Influencers" worldwide. Lori speaks, writes, trains, and consults with inside sales teams in mid-sized companies. Subscribe to the award-winning blog and the "Sales Ideas In A Minute" newsletter for sales strategies, tactics, and tips in selling. Increase Opportunities. Expand Your Pipeline. Close More Deals.
email lori@scoremoresales.com | My LinkedIn Profile | twitter | Visit us on google+