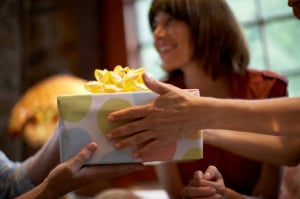 In the rush of December, you may be lacking a bit in the creativity department. You are a sales professional, a sales leader, or a company executive looking for a creative way to say thank you to a:
staff member
colleague
prospect
customer
partner
Unique gifts and actions stand out. They differentiate and make you memorable. In the sales profession this is a GREAT thing. I learned this many years ago when a colleague of mine sent 12 dozen roses to our co-worker he wanted to take out on a date (they later married, despite "Rule #1" at work - never date a co-worker). They have been married for 21 years. I know that I will NEVER forget that particular gift, because it was such an amazing stand out. (this was when good roses cost about $75 a dozen.)
Gain visibility through differentiation. I have sworn off sending cookies and brownies to clients (although if I still did, I'd definitely recommend these guys). Once one of my clients increased the size of their corporate gym and started holding "Biggest Loser" weight loss contests, I knew that sweet treats made me the enemy of their projected lowered health costs. Now I see the light and don't want to give anyone sugared treats - especially prospects or clients.
So what to give? Here are some top recommendations from past posts - bottom line is that people want to be recognized, and they want to be appreciated. Beyond that, they can be helped greatly through more visibility online. You have the power to recommend them, write about them, endorse them, and connect them. Do that, and you'll have customers and colleagues for life.
In addition to these great posts to give you ideas, please share yours in the comments.
Best Holiday Gifts for Sales Pros and Sales Leaders
What People Really Want This Holiday Season
Gifts for Building Business Relationships - on Huffington Post

Lori Richardson is recognized on Forbes as one of the "Top 30 Social Sales Influencers" worldwide. Lori speaks, writes, trains, and consults with inside sales teams in mid-sized companies. Subscribe to the award-winning blog and the "Sales Ideas In A Minute" newsletter for sales strategies, tactics, and tips in selling. Increase Opportunities. Expand Your Pipeline. Close More Deals.
email lori@scoremoresales.com | My LinkedIn Profile | twitter | Visit us on google+