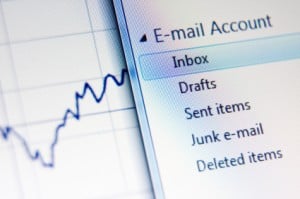 Just one shift in the words you choose can cause a new connection with your potential buyer today through email conversation. If you believe that, then you should become a student of communication if you are an inside or outside sales professional. With the great success, re-tweeting, and re-posting of our Top 10 Tips for Voice Mail Success in Sales, we are now posting our top tips for E-Mail success.
E-mail is most successful when there is quick, perceived value on the part of the e-mail receiver. No matter how great you and your company are, you must focus on your buyer and what interests them.
In no particular order, and please ADD your best tips as comments, below:
Know and simply convey the value you bring to the person receiving the email.
Keep messages short - sentences, not paragraphs. If paragraphs, keep to 1-3 short sentences.
Use in tandem with voicemail when you have a targeted prospective customer - no preference to which goes first.
Understand trigger events (events that could change/distrupt the buyer's world) and mention them as they are appropriate
NO TYPOs!!!!!! Make good decisions about grammar too. Get help on this in 2013 if you struggle.
Sound professional and cohesive. Piecing paragraphs together to save time can only be done if the message flows.
A well crafted e-mail message, like v-mail is a BRANDING OPPORTUNITY. Business brand + personal brand.
Use links, not attachments. Many big corporations will send email with attachments right to spam in some cases.
Never convey that you know your service will help – use "it seems like" or "it's possible that….." since you can't possibly understand each and every buyer's situation before talking with them. If you have an internal coach or inside information, still lead with the fact that it is extremely likely your service will do x, y, and z for them.
Remove many of the "I's" and "we's" to focus more on the "you's" and "your". Look at 5 or 6 emails you send to potential prospects and just count how many of these you have. Don't eliminate "I's" - just balance with "you" and "your".
(BONUS) - Use Linkedin's InMail for even BETTER response results than e-mail (more on that in a future post).
As I always say, work to make a 1% improvement in this - if you can do that every day, the cumulative results will astound you. Post your best e-mail tips as comments below - they are sure to help someone get one more appointment or conversation.

Lori Richardson is recognized as one of the "Top 25 Sales Influencers for 2012" and one of "20 Women to Watch in Sales Lead Management". Lori speaks, writes, trains, and consults with inside and outbound sellers in technology and services companies. Subscribe to the award-winning blog and the "Sales Ideas In A Minute" newsletter for sales strategies, tactics, and tips in selling.