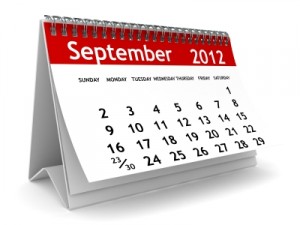 It's crunch time for B2B sales teams everywhere working to close deals by the end of Q3, and by the end of the calendar year. Just like professional sports, there are jobs on the line for sales leaders (coaches) and individual contributors (players) if they don't hit promised and forecasted numbers.
Why now? Large, complex sales cycles for SaaS services contracts and other product-based deals take time to come to closure. In order to count some of these for this fiscal year, more action needs to take place by the end of this month if there is hope of deals closing to book this year.
Who is the pressure on? Sales teams in publicly traded companies where the numbers will be revealed and sales teams in private companies who don't share their revenues publicly but do aspire to great growth. There are startups looking for their second round of financing, and there are many, many individual contributors whose end of year bonus and commissions depend on more deals.
Don't let the pressure change you from a consultative seller to a pushy sales person. Here are 3 tips to help you in this stressful time of the year:
1. Be value-added in all communications and interactions. Help your potential buyer with creative strategies that show the return they'll gain, or the peace of mind, or the solution to their issue with more than one explanation and more than a simple demo. Help them well, in creative ways and you can find your deal coming to closure. As with anything, sometimes it takes more than one approach to get agreement and support from your buyer.
2. Make sure you have enough prospects so that you are not desperate to try to close the only opportunities you have. Buyers don't care about your deadlines. Desperation is not attractive, either - and it can push your buyer away quicker than anything.
3. Bring in new ways of looking at your sales opportunities. The idea of working with a sales coach, for example, is one way to get new eyes on a set of old data and often can help move deals forward. See a previous post on why that is. Sometimes the answers are right in front of you - and a simple comment from an outsider can shake things loose.
What ideas do you use to move deals forward?
Do you have a stalled deal? Contact us for a no-cost session - if you are working on B2B sales opportunities -- especially in technology, distribution, or professional services - one new idea could help you bring a deal to closure. Give it a try! Just go to Score More Sales and the Let's Talk box will pop up, or click on the Contact tab.

Lori Richardson speaks, writes, and trains on sales strategies for B2B mid-market technology front-line sales teams. Why not sign up for our twice-monthly newsletter, "Sales Ideas In A Minute" or the award-winning blog rss feed?