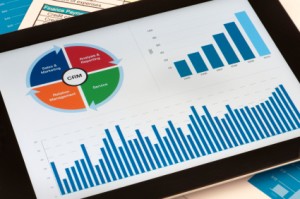 Mid-sized companies need better tools to help understand what customers need and want. Mid-sized companies also need better ways to help the sales team capitalize on potential and actual sales opportunities.
In reviewing a white paper this week my eyes glommed on to a sentence:
"Traditional CRM often falls short in enabling the proactive decision-making skills that business leaders need to address the demands of their clients."
It went on to say that many midsize businesses still rely on traditional, non-integrated customer management, sales tracking or marketing systems.
An Experian study found that 23% of data in a company's database is incomplete or inaccurate.
This means that many of our midsize companies are using some amount of bad data in disjointed bins of information that don't connect. How in the world could one make real time, smart decisions that benefit your business and your customer? How could you not lose extremely valuable information about potential sales opportunities this way?
Millions and millions – no, billions of dollars are being lost due to poor management of disparate data and not enough buyer-specific preference information inside the sales team.
At the same time, more and more mid market companies are planning to add cloud-based CRM – in fact, the White Paper, A Smarter Approach to CRM says 70% of mid-sized companies are planning to have hosted CRM in the next 2 years. In addition, these companies are growing their connection to the customer through social channels – so the natural progression of thought is to get more CRM applications social too.
Cited are three ways that a smarter approach to CRM can create more business value:
• The ability to understand and take advantage of the rich data the companies possess
• New insights into their customers, giving the company competitive advantages
• The ability to meet the demands of the customer to collaborate when and how they feel most comfortable engaging with the company
How to Get Started:
Put guidelines in place for getting data entered in real-time. This means that it does not pile up but rather is entered throughout the day by the sales team.
Use GOOD data – it must be clean and accurate (more on that in a future post)
Create goals for your business processes – CRM use is no exception. What will you do with it and how will that look?
Create a visual representation or flow chart of data from marketing to sales to operations
Involve all of the constituents within the company who will be a part of this process. Instead of throwing a new tool on them, start with cross-functional meetings to discuss what you need and how it will work. Get buy-in.
Create a plan company-wide, from the top down. Your efforts to integrate Big Data (and small data) to help you better serve your customers must be initiated from the C-suite and must be a clearly defined goal with senior leadership down to mid-level leaders, and all the way to the frontline sales and marketing staff.
I am biased because I work with sales teams rather than marketing but I still hear sales asking for more and better leads from marketing. Companies need to use all the data they are gathering in better ways to allow sales more insight into what their prospects have done since they last spoke, and what existing customers are doing in areas they are not working with them yet.
As better tools with smart technologists are put into place in these companies they will see the insight they need, which directly affects growth and future revenues.




This post was written as part of the

IBM for Midsize Business

program, which provides midsize businesses with the tools, expertise and solutions they need to become engines of a smarter planet. I've been compensated to contribute to this program, but the opinions expressed in this post are my own and don't necessarily represent IBM's positions, strategies or opinions.

Lori Richardson is recognized as one of the "Top 25 Sales Influencers for 2012" and one of "20 Women to Watch in Sales Lead Management". Lori speaks, writes, trains, and consults with inside and outbound sellers in technology and services companies. Subscribe to the award-winning blog and the "Sales Ideas In A Minute" newsletter for sales strategies, tactics, and tips.