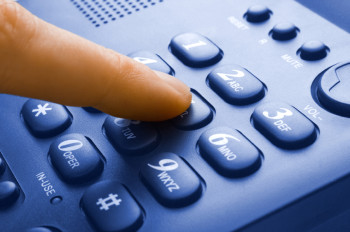 It started innocently enough when I replied to my industry colleague and social selling advocate Jill Rowley via Twitter to something she asked me. I said, "let's talk - by telephone" She responded by saying,
What's wrong with Skype or a Google Hangout?
It made me feel like the phone - the conventional phone, is being misaligned. I say, what's wrong with using the telephone?
Remembering Pamela Paul's New York Times article, Don't Call Me I Won't Call You back in 2011, it garnered 468 reader's comments. Three years later, the phone is still in use in every company in North America with the exception of only a few. It is underutilized among many sellers who think no one will pick up or will listen to their message.
Yes, I like Skype and I like Google Hangouts, don't get me wrong.
Sales professionals in companies doing business with people in other companies should not minimize the power of the telephone and in many cases, use it MORE often. If you are relying on email and social platforms only to communicate with buyers I'd caution you to add in the old-school conventional phone conversation - whether by Skype or smartphone or desk phone for the following reasons:
Hiding Behind Email: Some sales reps ONLY email back and forth with potential buyers. This means that they do not have a multi-faceted strategy for success. I talked about having a multi-faceted strategy in a session on the InsideSales Accelerate 14 Summit and believe it to be a key strategy for success in an inside sales position.
Reaching Buyers When You Need To: Some buyers will not reply to an email but they will answer their phone. They will listen to your well-crafted voice mail message. Social selling gives you the insight to make good use of the buyer's time once you do reach them or offer them a compelling message.
Making Good Use of Time: I have seen sellers spend 30 minutes or an hour working on a well-crafted email when they could have simply picked up their smartphone or desk phone and called. Save hours every week by using the phone. I can make dozens of calls, leaving a valuable, impactful message in the time that an email seller crafts and sends their email.
Mixing it Up: Setting up your day or week with a variety of communication strategies to talk with more buyers makes the time fly. There is no reason not to create a schedule that keeps you more interested and engaged. Doing the same thing over and over and over all week causes many to be disengaged and lower energy.
Practicing Your Part of the Conversation: It's not called a pitch when you are engaging potential buyers and learning from them. Know the value that you, your product, your service, and your company bring to the buyers you talk to. Understand their role and their industry. To be comfortable, you need to practice what it is that you say. If you email exclusively it makes it very difficult to sound as confident talking about what it is that you bring to the table. Meet your buyers where they are and communicate in a way that makes them want to engage further.
Leaving your Brand and Building Credibility: When I leave you a concise, professional message that is more about you than me, and I say that I will call you back or send you a follow up email -- then do it -- I'm in a position to build trust. I'm good with my word. I said I'd try you again next week and I did. I also left a sound bite sure to pique your interest. A potential buyer may not call me back, but they are learning more about the value I can offer them and why they might want to have a quick conversation. My enthusiastic tone and my confident voice shows something I can't really show via email or text or a Twitter reply.
I love the use of video - especially when both parties can see each other. It is the ultimate, "next best thing to being there." But other than my Silicon Valley software-as-a-service clients, most of MY mid-market clients don't use Google Hangouts and a great number don't use Skype. The phone still wins out for ease and availability in many businesses.
Are you using the phone and voice mail messaging as part of your strategy?
Post your thoughts - we'd love your feedback
.

Lori Richardson is recognized on Forbes as one of the "Top 30 Social Sales Influencers" worldwide. Lori speaks, writes, trains, and consults with inside sales teams in mid-sized companies. Subscribe to the award-winning blog and the "Sales Ideas In A Minute" newsletter for sales strategies, tactics, and tips in selling. Increase Opportunities. Expand Your Pipeline. Close More Deals. email lori@scoremoresales.com | My LinkedIn Profile | twitter | Visit us on google+