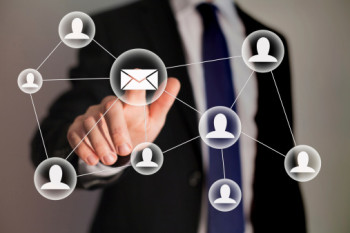 Many who work for companies - especially mid-sized ones selling to other businesses - get stuck in doing the same old things year after year to build sales. What if you could break out from being unstuck, and catapult your company and maybe even yourself to higher visibility and more revenues?
Last week, a list on Forbes contained my name as one of the top 30 social selling influencers in the world. I am very humbled, and quite honored, since it seems that quite a process was put into place and many different tools to measure reach was used to take a list of 500 influencers down to the top 30.
Thanks to our loyal readership, great clients, and lots of business professionals willing to share our stuff it has been a lot of work to get to where we are, but it has also been a very fun journey. What's interesting is that anyone can do this – certainly if I can, you and your business can as well. My goal now is to encourage you to take more steps to make this happen.
Just four years ago, I had a different target market and was giving workshops around the U.S. to help entrepreneurs grow sales to ultimately grow their businesses. In the latter part of 2010, I shifted working less with business owners and more toward helping mid-sized companies' front line sales reps and their managers grow sales. So in less than four years, I have been able to build a brand and grow the visibility I encourage others to do.
I've written about it numerous times and in various ways. As a seller or a sales leader, you can build your company's brand as well as your own by being an influencer. Look at the top three on this Forbes list:
Koka Sexton is an amazing guy who has been building his own brand around social selling for a few years, and LinkedIn was smart enough to bring him on board a little over a year ago. LinkedIn is certainly a social selling tool and Koka the perfect representative of how adding insight to help potential buyers builds your brand. There is no question that Koka has helped LinkedIn in HUGE ways to build their brand by walking their talk.
Koka's advice to become an Influencer:
My advice is start talking about things that your community wants to hear about. It's not about you, its about them, your customers and prospects. If you want to be influential about iced tea start talking about 100's of ways to brew it. Influence is based on trust and information. If you have information but no one likes you because you're unreliable or self promotional all the time then you have no trust. If people trust you but you don't have anything relevant to say on the topic then they will listen to someone else. Build trust first and then educate, educate, educate!
Ken Krogue is the co-founder of InsideSales.com, a company that offers tools and consulting to companies with inside sales teams. Ken truly is a leader in inside selling strategies. He is a regular main stage speaker at industry events. Additionally his blogging and Forbes column keeps him relevant and at the forefront.
Jill Rowley has often been one of the first names that comes up anytime a business wants to know if and how sales reps can champion an industry. Jill, who was most recently with Oracle represented how to gain visibility for a company – first for Eloqua and then Oracle. She helped spearhead social selling at Oracle. Now she has launched her own consultancy which will teach others how to do it.
Take a look at Kite Desk's full list of 100 social sales influencers - follow them, and learn how to influence within YOUR niche and YOUR industry.
What Are You Waiting For?
Jill Rowley offers her advice:
Becoming an Influencer in your industry takes time - it's a journey, not an overnight success.

1) Create your Personal Brand

2) Demonstrate your domain expertise on your Social Networks

3) Listen to the conversations already happening (where you want to be an influencer)

4) Connect with and Follow people already Influential in the area you want to be an influencer

5) Build your audience (where you want to be an influencer)

6) Engage with the community (where you want to be an influencer)

7) Use Content as your Currency - generate original content and "get down with OPC" = Other People's Content)
The next post will offer more detail on some of these strategies. In the meantime, there is a lot to learn from these influencers that you can put into place for yourself and your company.
Other posts on becoming an Influencer:

This post was written as part of the IBM for Midsize Business program, which provides midsize businesses with the tools, expertise and solutions they need to become engines of a smarter planet. I've been compensated to contribute to this program, but the opinions expressed in this post are my own and don't necessarily represent IBM's positions, strategies or opinions.

Lori Richardson is recognized on Forbes as one of the "Top 30 Social Sales Influencers" worldwide. Lori speaks, writes, trains, and consults with inside sales teams in mid-sized companies. Subscribe to the award-winning blog and the "Sales Ideas In A Minute" newsletter for sales strategies, tactics, and tips. Increase Opportunities. Expand Your Pipeline. Close More Deals.
email lori@scoremoresales.com | View My LinkedIn Profile | twitter |Visit us on google+