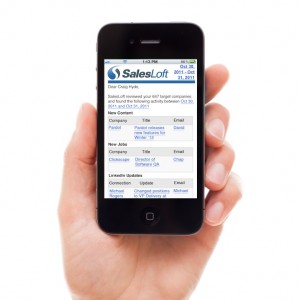 Recently I had the pleasure to interview Kyle Porter, co-founder and CEO of SalesLoft, a sales intelligence software company. Kyle and I first met when he came to Boston for B2B Camp Boston last year. Kyle is a co-founder of B2B Camp- an "unconference" for B2B sales leaders, CEOs, and sales professionals.
Kyle is very enthusiastic and seems to really enjoy talking about selling. His company is making tools to help power LinkedIn to new heights, and I'm sure they are working on other exciting tools as well.
LR: What tools have you created at SalesLoft and why do you work with the LinkedIn platform?
KP: We've created two services for sales folks that are connected to LinkedIn. One is our automatic prospecting tool and the other is Job change alerts. Both are free to use and take <15 seconds to sign up.
We work with LinkedIn because they have the most up-to-date customer information and are the most widely adopted network for business professionals. For sales information, there is no substitute.
LR: What do each of these tools do with LinkedIn?
KP: Job Change Alerts sends users a daily email listing the people in their LinkedIn network who have changed headline or titles in the last 24 hours so that they can easily to stay up to date on the movement in their network.
Our prospecting tool, Prospector allows you to use Google to search for LinkedIn contacts, and to easily export them to a spreadsheet so that you can speed up sales campaigning.
LR: Why don't more sales people really understand the power of LinkedIn?
KP: I believe these are the 3 biggest reasons:
They don't realize it is powerful
They think it doesn't apply to them
They're not motivated enough to get ahead or 'get around to it'
LR: Sounds like we could have a future conversation to drill down about these reasons! Of the apps (in addition to yours) that you use and recommend for sales professionals - what are a couple of them and why do you like them so much?
KP: I've really gotten a lot of value from RSS subscriptions and Twitter lists. They allow me to stay in the know about my industry.
My favorite product is our enterprise application, SalesLoft. It provides job change alerts and news alerts on the companies and people in my CRM.
We're also big fans of Salesforce for CRM and Pardot, our marketing automation app.
LR: Do you have any B2B Camps coming up?
KP: Thanks for asking. B2BCamp is an unconference for marketing and sales folks looking to use new tech and processes to get ahead. We just had our largest B2BCamp ever last month in Atlanta with 300 attendees! We're currently seeking new city hosts and interested sponsors for other US cities.

Lori Richardson is recognized as one of the "Top 25 Sales Influencers for 2012" and one of "20 Women to Watch in Sales Lead Management". Lori speaks, writes, trains, and consults with inside and outbound sellers in technology and services companies. Subscribe to the award-winning blog and the "Sales Ideas In A Minute" newsletter for sales strategies, tactics, and tips in selling.