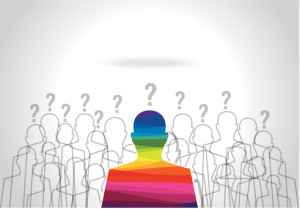 For some of us it is easy to be social in sales, for others it is an effort, and for a third group, a confusing idea. I have been meeting more and more leaders in mid-market companies who are simply confused about the value of having their sales reps focused on social selling because they don't see the payoff.
I was one of LinkedIn's first 30,000 members way back in the early 2000's. My number is 29,426 and am now among 300 million members. There has been a lot to learn over the years – much of it the hard way. If I can share some strategies that could help sellers be successful, and you can learn from my mistakes, it will assist you in being more productive sooner.
LinkedIn, Twitter, and content creation / blogging are the three ways we attract new eyes to our website and to my world. There are hundreds of strategies for success incorporating some social tools into your business. I tend to share what I know has worked. In the last 10, B2B companies we have worked with, I found that this tool combination has worked with 9 of them.
Because things change with these social platforms all the time, you have to be flexible and understanding of these changes as the tools get more sophisticated. LinkedIn certainly had little idea of the power it would later wield among sellers and business professionals, so it has changed quite a bit over time.
These social tools are simply that – tools – they are not earth-shattering new ideas, but rather tools to help you connect better or easier than you did in the past.
Here is one example.
We recently worked with a division of a $4B manufacturing company. I heard about one of their new C-level executives and apparently had just missed meeting him at an event the client put on. On a whim I looked to see if he was on LinkedIn, and sure enough, he was. I crafted a personal note sharing why I thought it would be valuable for him to connect, and he indeed connected within 24 hours of my InMail. Because of LinkedIn, I didn't have to track down where to find him or make calls and leave voice mails. Now that he knows who I am and was willing to connect with me, I have a new-found confidence to craft a message of value for potential future business.
In this case, the social tool helped me find someone, connect to someone, and ALSO gave me confidence. Did you know that social tools could do that?
Relationships don't develop overnight. Just like meeting someone in person, you start with a handshake and short conversation to learn about them.
Build your way toward further getting to know them and proposing ideas that are a win for them and a win for you or someone else.
Do this every day and it becomes a way of life. If you are not good at relationship building and follow-up, consider two ideas:
Find someone who is great at it and they can do a lot of it for you
If you don't want to involve anyone else, create a simple, repeatable process and then step a bit out of your comfort zone but use the process and it will be easier than doing it haphazardly
What will you do this week to connect through social channels to those who can refer you, advocate for you, or collaborate with you?

This post was written as part of the IBM for Midsize Business program, which provides midsize businesses with the tools, expertise and solutions they need to become engines of a smarter planet. I've been compensated to contribute to this program, but the opinions expressed in this post are my own and don't necessarily represent IBM's positions, strategies or opinions.

Lori Richardson is recognized on Forbes as one of the "Top 30 Social Sales Influencers" worldwide. Lori speaks, writes, trains, and consults with inside sales teams in mid-sized companies. Subscribe to the award-winning blog and the "Sales Ideas In A Minute" newsletter for sales strategies, tactics, and tips. Increase Opportunities. Expand Your Pipeline. Close More Deals.
email lori@scoremoresales.com | View My LinkedIn Profile | twitter |Visit us on google+