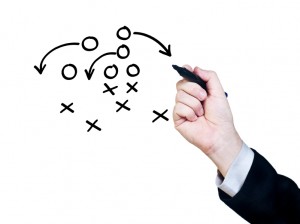 Many sales leaders and smaller company CEOs are discussing sales team planning for next year. Some have completed theirs.
I know some really great smaller organizations that don't complete this important task until sometime in Q1 - in a panic because they didn't get things done Q4, they extend the old comp plans and ultimately make changes sometime in mid-January. I remember one company that did this in February.
We suggest you don't drag things out - make time now and hammer out issues of territory overlap, vertical territories vs. geographic, and come to a tentative idea, if not complete, by end of December (assuming you run on a calendar year).
Pull in the constituents involved and get some input, then make those hard decisions.
If you do this, you'll go into the holidays with some sense of accomplishment, and your sellers will have time to put some scenarios together and talk with you post-holidays.
Good leaders ask tough questions. They poll their team members, and eventually make recommendations based on what's best for the team. It can be a really challenging time.
By creating something now, you'll also have that magical week between Christmas and New Year for refinement - assuming you and others are at work then. For a growing company, this can be such a great week to reach people by phone and get things done.
This is something we work on routinely with technology and distribution companies for inside and outside sales teams - don't hesitate to ask us if you have a question or two.

Lori Richardson is recognized as one of the "Top 25 Sales Influencers for 2012" and one of "20 Women to Watch in Sales Lead Management". Lori speaks, writes, trains, and consults with inside and outbound sellers in technology and services companies. Subscribe to the award-winning blog and the "Sales Ideas In A Minute" newsletter for sales strategies, tactics, and tips in selling.