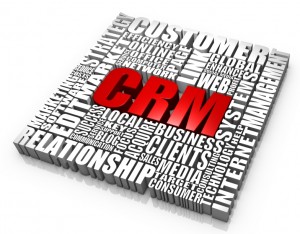 In this series, we interview actual sellers who have not only become friends with their CRM but have encouraged their colleagues to do the same. Why? Because most people think salespeople hate CRM - I'm out to disprove this myth. Our kickoff story is from Andy Brewer, a seller with DiscoverOrg in the Portland, OR area.
LR: Salespeople tend to have very low adoption rates of CRM usage - any idea why that is?
AB: Salespeople's time management is the most essential part of their job. Everything we do is with the overarching goal of getting a deal in place. When you bring a CRM system in initially it can be viewed as something that will take time away from our activities that drive deals forward. We may also have the feeling that CRM systems are adopted by company executives just to be able to track what we are doing, essentially an easier way for our boss to look over our shoulder. Salespeople don't stick with a program long enough to realize the value, we don't give CRM systems a chance and I think that's one of the biggest reasons there is a low adoption rate. Unless you dive in headfirst and fully adopt on day one you will never adopt overtime and since in many cases we view CRM as a time suck we don't dive in headfirst.
LR: What happens if a sales rep at DiscoverOrg does not adopt it?
AB: One of our best sales reps here rejected the adoption of Salesforce. He said on multiple occasions that he just didn't see how this was going to help his sales. He thought it was a big waste of time having to enter all the info in from a prospect call and thought that he was doing just fine with his outlook calendar and setting tasks. The great thing about him though was that he was willing to give it a shot and two months into it he came to me and said, "You were right- this saves me a ton of time- I never thought that I could be this organized."
LR: In your case, you have embraced it? Why, and what has it done for you?
AB: It's helped my (a) follow-ups, (b) time management, (c) organization and knowledge going into a call, (d) our sales team doesn't cross wires anymore, and (e) being responsible for other sales members it helps me track where things are at and where I need to be helping.
a. We are an extremely fast growing company and I am very lucky as a salesperson to have my calendar filled on a daily basis with great leads. But what this does is it takes time away from one of the most important parts of the sales processes which is follow-up. When I look back at how I used to track prospects by my e-mail inbox and Excel sheets it makes me cringe. I know, without a doubt that I was letting things slip through the cracks and leaving money on the table.
b. I do spend more time in my initial process on completing information in our CRM, but that time spent has long-term effects and saves me at least 10 times the amount of time down the road when it comes to follow-up. When I come in to the office I have all of my daily tasks prioritized, with just a quick look- I get a good view of what I need to get to first and what my day will be like.
c. The most essential part of any interaction with a client is coming into a conversation with a knowledgeable approach. One of the very first things we teach our sales reps is to listen and to understand a prospects needs and pain points so that they can leverage that information to show how our solution will help them. We can now track this, it doesn't matter if it's a phone conversation or an email communication. We are able to see what is going on with an account and that is essential when you're dealing with hundreds of different prospects every month.
d. As a growing organization, it's hard to keep track of what everyone else is doing. Before we adopted Salesforce we would have a couple reps working on one account. That's a waste of time and it also has an impact on the moral of the Sales team. They need to be confident and put their full efforts on a new prospect and that's hard to do when internal processes make it hard to see the light at the end of the tunnel. With Saleforce as the master record it insures that our team is organized and only one person is working an account at a time.
e. This is the part that sales reps tend get weary about- my boss is going to be able to see what I'm doing on a daily basis. My answer to that is, who cares! Your boss will be able to get valuable metrics on who is closing deals and why - and also see why they are losing deals among numerous other reports. The best sales rep's want that - they live off of competition, it's not just about the money and everyone being able know exactly what's going on creates a competitive and successful environment. It also allows the upper management to make better decisions on which way to lead the company.
LR: What tips do you have for other companies looking to get more salespeople involved?
AB: Don't expect this to be an overnight process. Get them trained correctly on how to use it and make sure they are using it. There is training involved and sometimes it takes a couple of steps to get in front of the right manager who will train your company correctly, but tracking that down is well worth it. There is a reason that Salesforce makes $3 billion a year and it's the fastest growing software company - it's because it makes salespeople a lot of money!
LR: What does DiscoverOrg do, and what is your role / territory?
AB: DiscoverOrg provides the most up-to-date contact information for technology companies looking for sales leads. Instead of employing modern data-gathering tactics like web scraping though, our Vancouver, WA, company keeps our list of lead contacts current the old-fashioned way: Our employees pick up the telephone.
We were just named the 188th fastest growing company in the US by Inc 500 and are continuing to grow at a rapid pace.
I'm the Senior Director of Sales- As an individual contributor within the sales team I manage new leads and my own pipeline. In addition, I work with my colleagues to develop new approaches and am responsible for the hiring and training of new reps.
LR: Thanks, Andy! Do YOU have a CRM success story for us to share? Send it via the Score More Sales site.

Lori Richardson is recognized as one of the "Top 25 Sales Influencers for 2012" and one of "20 Women to Watch in Sales Lead Management". Lori speaks, writes, trains, and consults with inside and outbound sellers in technology and services companies. Subscribe to the award-winning blog and the "Sales Ideas In A Minute" newsletter for tips and strategies in selling.