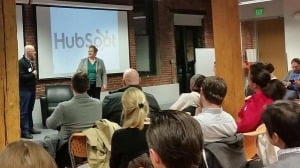 I spoke this week to a group of sales professionals at the new monthly Sales Accelerators event at Hubspot in Cambridge, MA. It is a new event here in the Boston area for sales reps to network, meet and mingle with others. Hubspot is a great host, and I was thrilled to be invited to have a Q&A at the front of the room to discuss prospecting issues and ideas.
(Thanks to Pete Caputa for the invite, and Andrew Quinn for the great questions and comments. If you're in the Boston area, watch for these )
My first statements to this room that consisted of some very new sales reps as well as veterans were:
Selling is an admirable profession
If you become a student of selling you will learn new things every day
Everything you learn as a professional seller applies to the rest of your life
We had some good discussion around how to leave voice mail messages and how to create a cadence for success in prospecting - a topic near and dear to my heart.
A couple of things jumped out at me from that fun evening discussing my passion - selling:
You've got to create a solid foundation for yourself to be successful, which includes setting some of your own goals. Some of these goals are attainable and some are a stretch. As you reach your goals you acknowledge this, and you become more confident in what you are doing. This also includes not having a lot of personal drama - because it's near impossible not to bring that to your work.
So that means that if you have a crazy sales manager who doesn't acknowledge much of what you do that is good - it's fine because you are doing it yourself. You may want to keep that as a point of information as you evaluate your career in the future - but you don't need others to encourage you forward. You do it yourself. If you have a strong support team around you, even better.
The other thing is that you need to continuously evaluate yourself. Being able to do self-evaluation is an important skill as a professional - no matter the career. In addition to self-evaluation (because it's hard to be objective), ask someone outside of your work environment about the messaging you create for potential buyers when prospecting. Join Toastmasters - a great place to hone your speaking, feedback, and leadership skills.
Work to improve 1% every day. If you can do that - and really be objective in what you need to improve, you'll be unstoppable in a selling career.
So set that next stretch goal!
What would you aspire to do if you knew you would not fail?
What are 3 things you'll accomplish before the week is over?

Lori Richardson is recognized on Forbes as one of the "Top 30 Social Sales Influencers" worldwide. Lori speaks, writes, trains, and consults with inside sales teams in mid-sized companies. Subscribe to the award-winning blog and the "Sales Ideas In A Minute" newsletter for sales strategies, tactics, and tips in selling. Increase Opportunities. Expand Your Pipeline. Close More Deals.
email lori@scoremoresales.com | My LinkedIn Profile | twitter | Visit us on google+