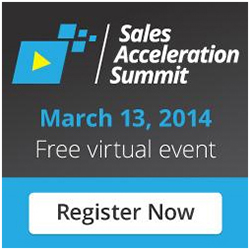 Did you know that this week may contain the best professional development event of the year for you? If you are a sales leader or sales executive, you do not want to miss the Sales Acceleration Summit 2014 on Thursday, March 13th. I was thrilled to be one of the presenters last year, and excited to be speaking again this year. My presentation is about the Sales Pipeline Success Puzzle. Please know that I don't promote events from this blog much throughout the year - but THIS is an event you can't miss. Why?
It is no cost to attend, and 80 business experts will be presenting. You'll get your choice of presenters to listen to.
The presentations are short - just 15 minutes, so very easy for you to listen to a few during your work day.
They are high quality with much thought put into them. Our takeaway handouts from the session, drilling down into how the Sales Pipeline works are worthy, we think, of a paid webinar. Others will deliver extremely valuable content and share best practices to help those of you in the "remote professional selling" business of Inside Sales solve issues and grow business.
Last year over 16,000 people attended. This year we expect over 20,000.
Please sign up here to get in on the great offerings. I will be listening to some of my favorite colleagues and experts too.
If you are really excited, please share the link to my session and it will get you into all the rest as well. Here is a sample Tweet you are free to use, and I'd be most appreciative:
Over 20,000 leaders gathering for "Sales Acceleration Summit" 03/13 http://bit.ly/LoriRichardsonSAS-14 Don't miss out! #salessummit
I hope to "see" you on Thursday. If you do attend my session, please connect with me afterward through this blog or on Twitter (I'm @scoremoresales) with any questions or insight to add to the discussion. Looking forward to Thursday!

Lori Richardson is recognized as one of the "Top 25 Sales Influencers for 2013" and one of "20 Women to Watch in Sales Lead Management for 2013". Lori speaks, writes, trains, and consults with inside and outbound sellers in technology and services companies. Subscribe to the award-winning blog and the "Sales Ideas In A Minute" newsletter for sales strategies, tactics, and tips in selling. Increase Opportunities. Expand Your Pipeline. Close More Deals.
email lori@scoremoresales.com | My LinkedIn Profile | twitter | Visit us on google+